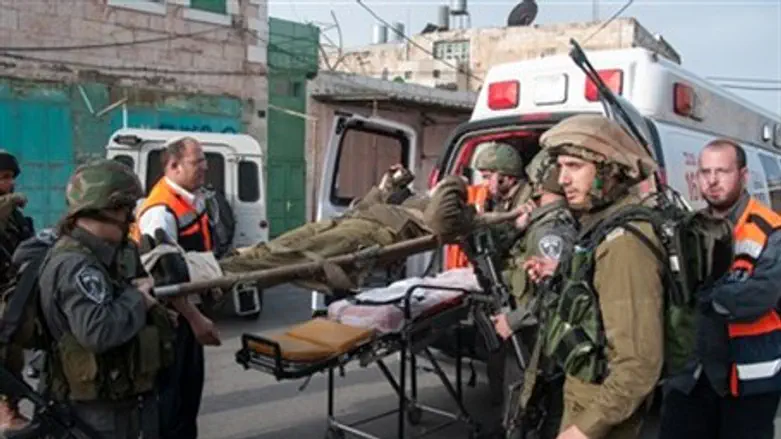 IDF drill in Hevron
IDF Spokesperson Unit
IDF soldiers in the Yehuda Brigade are preparing for the annual concerts and events held in the holy city of Hevron for the Jewish holiday of Passover, which will occur in mid-April. As part of the preparations, a special drill was conducted successfully by the unit on Tuesday.
The Brigade's Operations Branch Captain, Major Amir Friedman, told Arutz Sheva that as part of the exercise soldiers simulated a mass-casualty terrorist attack.
"We simulated an event with wounded casualties in two centers, and checked the forces' activities," remarked Friedman. "We practiced opening an alternate route in the case that the route was blocked to traffic, preventing the arrival of rescue forces, and also the opening of a third route in the case of such a need."
During the course of the drill, soldiers practiced clearing spaces for rescue helicopters to land, as well as areas for gathering and sorting wounded people. They also prepared for a case in which additional terrorists were identified in the area, as well as other scenarios.
Security forces from the Kiryat Arba-Hevron Council took part in the drill, along with soldiers from Nachal's Brigade 932, Brigade 601 of the Engineering Corps, Brigade 77 of the Armored Corps, as well as border guard and police forces.
The drill comes to ensure security in the city, where just two weeks ago a senior Hamas terrorist was arrested after being released by the Palestinian Authority (PA). The terrorist was wanted for many years for his part in the massive Palestinian-Arab terror terrorist campaign known as the Second Intifada, or the Oslo War, that began in 2000.
Just this morning, soldiers shot dead a Palestinian Arab man attempting to break through the security barrier in the area. That incident came not long after security forces uncovered a sizable stash of "military-grade" weapons in a nearby Arab village.
Hevron's Jewish community has additional cause to celebrate this year, after a recent legal victory which saw the Supreme Court rule last Tuesday - after a six-year-long trial and ten-year-long struggle - that the Hevron building known as "Peace House" was duly purchased by its Jewish owners.
IDF drill in Hevron IDF Spokesperson Unit