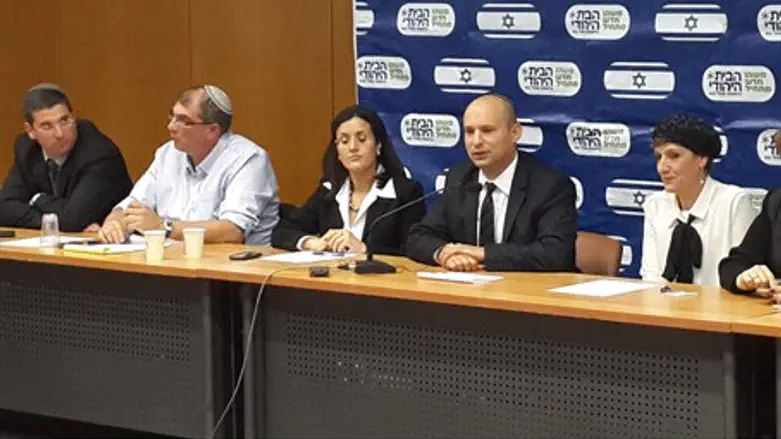 Jewish Home MKs
PR photo
The governing Coalition is in crisis because of a controversy over a bill concerning the procedures for converting people into Judaism. The bill was presented by MK Elazar Stern of Hatnua, and is opposed by the Jewish Home – which says it is not in line with agreements reached with the Chief Rabbis.
The chairman of the Knesset's Law, Constitution and Justice Committee, MK David Rotem (Yisrael Beytenu) said Tuesday that he intends to bring MK Stern's bill to a vote in his committee and prepare it for its final reading in the Knesset plenum.
The religious-Zionist Jewish Home responded by saying that the move contradicts the Coalition agreement that stipulated that the Conversion Law would be coordinated with the Chief Rabbis and the Ministry of Religions. The Jewish Home is threatening to vote against the Coalition's position in all of the votes that remain to be held in the Law, Constitution and Justice Committee until the end of the Knesset's winter session.
The winter session ends next week, however.
MK Stern's bill woud allow the rabbi of any city to open a religious court for conversion – thus ending the Chief Rabbinate's control of the conversion mechanism. The Jewish Home demands – along with the Chief Rabbis – that only a rabbi who is recognized as being capable of acting as a dayan (religious court judge) or one who has been approved for performing conversion by the Chief Rabbinate will be able to open a beit din for conversion.
Last week it was revealed that Hatnua voted in favor of the three major - and controversial - laws passed in the Knesset last week, in return for the government accepting its demands that MK Stern's conversion law be approved.