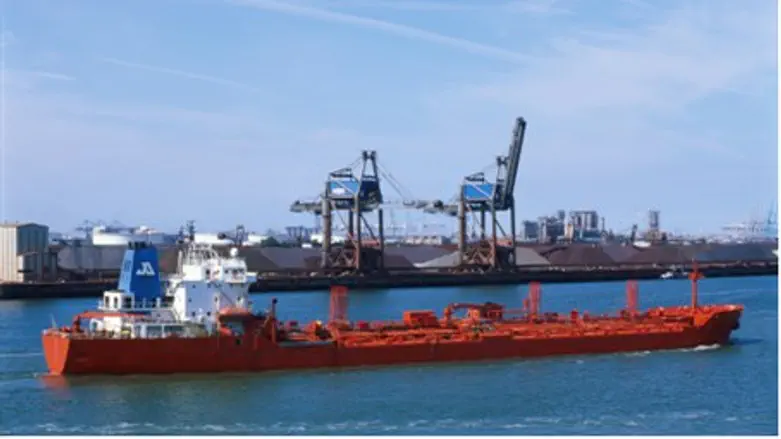 Oil tanker (illustrative)
Thinkstock
Two Israelis have been questioned in Cyprus in connection with an oil tanker loaded from a rebel-held port in Libya, AFP reported on Monday, citing the Cyprus-based CNA news agency.
The Cypriot report said police in the coastal city of Larnaca had questioned the two Israelis, as well as a Senegalese national, on suspicion of negotiating to buy crude from the tanker, Morning Glory. The questioning reportedly took place on Saturday.
A Larnaca court declined to issue arrest warrants as authorities in Cyprus had no evidence that the alleged offence was committed within its territorial waters, according to AFP.
Local media said the three flew in to Larnaca on a private jet late Friday, hired a boat from the marina and went out to the tanker to negotiate with the crew.
Police monitored their movements and the boat was intercepted once they were back in Cyprus waters. The trio flew out to Tel Aviv on Sunday night.
In Washington, the Pentagon said U.S. Navy Seals early Monday boarded and took control of the Morning Glory in international waters southeast of Cyprus. It was to be taken back to Libya.
The tanker had been stolen by former rebels against ousted leader Muammar Qaddafi. The Libyan government had failed to halt the tanker, a fact which plunged the country into one of its biggest crises since Qaddafi was toppled and led to the parliament ousting Prime Minister Ali Zeidan, who fled the country.
The Morning Glory had slipped through a Libyan naval blockade of the eastern port of Al-Sidra, controlled by rebels seeking autonomy from Tripoli, -- after reportedly being loaded with some 234,000 barrels of crude, reported AFP.
Libya's interim government confirmed the takeover of the ship and thanked the United States and Cyprus.
Independent militias still control large part of the North African country, more than two years after Qaddafi's downfall, and regularly fight each other as well as the country's interim authorities. Terrorist groups have taken advantage of the situation and are training fighters on Libyan soil.
Two weeks ago, two members of Libya's interim parliament were shot and wounded by protesters who stormed the General National Congress (GNC) in downtown Tripoli.
Monday's report about the Israelis comes one week after a 65-year-old Israeli was arrested by customs officials at the Ben Gurion International Airport, this time on suspicion of selling paragliding equipment to Iranians.
The man, Anatoly Kohan of the central Israeli town of Kohav Yair, was arrested upon his arrival from Switzerland, after customs officials became suspicious of a package he tried to send and which was discovered to be paragliding equipment meant for Iran.
Kohan, who owns a company which exports such equipment, said the shipment was made up of "sporting equipment". When the shipment was checked by Israeli security forces it was found to contain two paragliders. Security officials noted that while the paragliders are normally used for recreational purposes, they could also potentially be used for military activities or terrorist attacks, as they are capable of staying in the air for many kilometers at a time and can carry a load of several dozen kilograms.
In late February, two Israeli weapons dealers were arrested for attempting to sell military hardware to Iran.
The two attempted to send Iran replacement parts for a Phantom F-4 warplane. They allegedly attempted to send the parts via Greece.