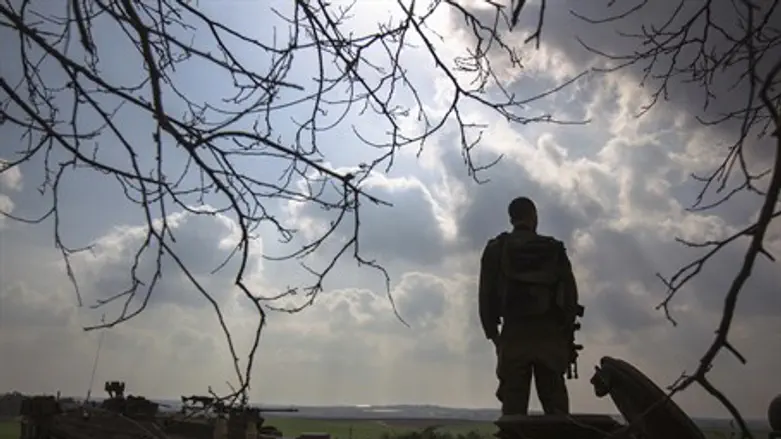 IDF soldier on the border with northern Gaza
Reuters
An IDF soldier's complaint that three men tried to force him into a car at the Hamra Junction in the Jordan Valley Sunday appears to have been a lie.
According to the soldier, he was standing at the junction when a white car stopped near him, and the men got out of it and attacked him. The soldier said that he escaped by running into an olive grove, leading the IDF to set roadblocks for the supposedly escaping vehicle.
However, police from the Misgav and Tverya stations who questioned the soldier report he appears to have made up the story. The soldier, a resident of the Druze village of Beit Jan, is being transferred to the Criminal Investigation Division for further questioning.
In September, an Israel Defense Forces soldier, Sergeant Tomer Hazan of Bat Yam, 20, was abducted and murdered in Samaria by an Arab terrorist.
The motive for the murder was the terrorist's plan to trade the body of his victim for the freedom of his brother, a Fatah terrorist who has been in jail in Israel for the last ten years.
Ever since the success of the Gilad Schalit deal, in which an abducted IDF soldier was exchanged for obver 1,000 terrorists, terror organizations have been making a intense effort to abduct more IDF soldiers or civilians.
Jibril Rajoub, a senior official in the Palestinian Authority (PA), said in January that the PA encourages Hamas to abduct soldiers and hold them hostage, in order to make Israel release PA terrorist prisoners in their place.
"If Hamas wants to kidnap Israeli soldiers, they should go ahead and kidnap Israeli soldiers," Rajoub stated in a live PA television broadcast. "They should kidnap them if [the Israelis] refuse to release more prisoners, if they want to keep them imprisoned forever – only releasing them as ghosts or skeletons."
"The Israelis need to understand," Rajoub declared. "It is obvious that kidnapping is a language they understand."
"If anything, we encourage Hamas to kidnap Israeli soldiers," he continued. "When they kidnapped [Gilad] Schalit, we welcomed it. When they performed the Schalit [prisoner exchange] deal, we had some reservations about it, but we welcomed it too."