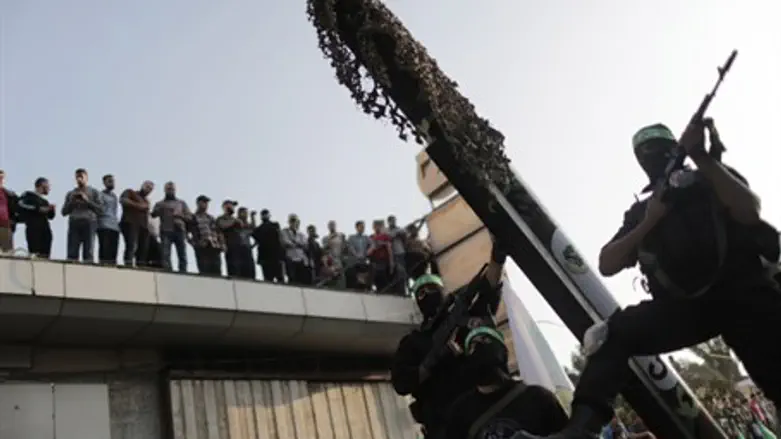 Hamas terrorists parade rockets
Flash 90
In the wake of the latest round of rocket attacks from Gaza, at least two top government ministers – Intelligence and Strategy Minister Yuval Steinitz and Foreign Minister Avigdor Liberman – are calling on Israel to retake Gaza. In a stinging recrimination to former Prime Minister Ariel Sharon's disengagement plan, which included the forced expulsion of some 10,000 Israelis when their homes were demolished and the land they were build on handed over to the Palestinian Authority, Steinitz said in an interview with Channel 10 that Israeli control was the only way to restore peace and quiet in southern Israel.
"Sooner or later we will have to take control of Gaza, in order to get rid of the Hamas regime," Steinitz said. "We do not need to reoccupy it permanently, but we do need to remove from Gaza the option of firing rockets on us. If and when the moment comes when we must retake Gaza – and that moment is coming soon – the operation will have to be a very quick one," said Steinitz.
An operation like this is likely to be distasteful to Israelis, but there really is no choice, said Steinitz. "This really should have been done in 2012, in Operation Pillar of Defense, when they fired rockets at Tel Aviv and Jerusalem. The IDF entered Gaza and managed to halt the firing of rockets for a time, but I was of the opinion that we should have continued."
The model for Israel's involvement in Gaza is the 2002 Operation Defensive Shield, which the IDF undertook in response to the massive wave of suicide bombing attacks in Israeli cities by terrorists from Judea and Samaria in the Second Intifada.
"We retook areas like Jenin, Tulkarem, and Hevron temporarily, but we did not remain there," he said. "We went in, got rid of the terrorists, and left. And now that area is more or less quiet. The only reason we were able to stop the suicide bombing attacks of the second intifada was that we went in and halted the terror, and this what we are going to have to do in Gaza," he added.
Joining Steinitz's call was Foreign Minister Avigdor Liberman. In a Facebook posting Thursday, Liberman expanded on comments he made Wednesday night, in which he said that Israel needed to retake Gaza.
"The Gaza disengagement was one of the most difficult chapters in Israeli history, causing an internal split and a major trauma to the 8,600 residents of Gush Katif who were thrown out of their homes. Some of them have still, until this day, succeeded in rising above the suffering they experienced," he wrote.
Sharon and others who advocated the benefits of the disengagement said that there was no reason to worry; if Israel faced any trouble from Gaza, the IDF could walk right back in and take over again. But they were wrong, he said. "Since the intifada, Gaza has turned into a 'kingdom of terror,' with Hamas firing sophisticated missiles at Israel." Operation Pillar of Defense brought just a small respite from the ongoing rocket attacks, and not the permanent quiet Israel and residents of the south need.
"We cannot allow the areas that Israel evacuated to be used for terror attacks on us," said Liberman. "The only solution is a reversal of the process, a retaking of Gaza."