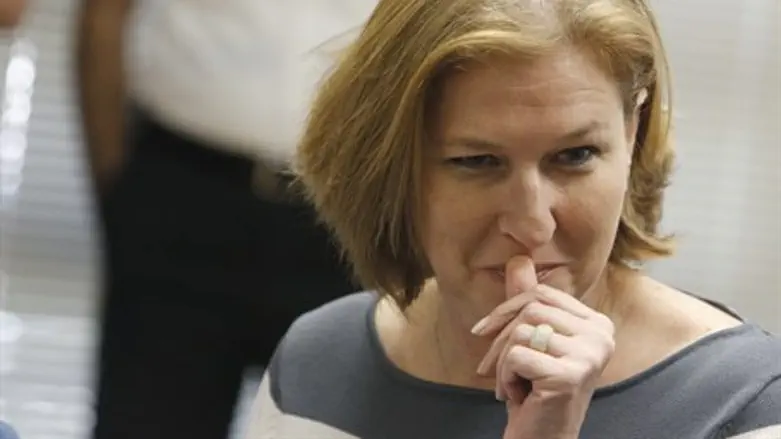 Tzipi Livni
Flash 90
The Knesset has concluded a marathon voting session this week on three controversial laws: the Enlistment Bill, the Governance Bill, and the National Referendum Bill.
The Coalition's main factions – Likud Beytenu, Jewish Home and Yesh Atid – each agreed to back all of the bills, knowing that by doing so, the bills they view as most important would have support, too.
Justice Minister Tzipi Livni's Hatnua faction agreed to support the three bills as well. Now, a report in Maariv/nrg reveals the reason why: Hatnua has been promised support for its own controversial legislation, a proposal involving change to Israel's system of conversion to Judaism.
The legislation, put forth by MK Elazar Stern (Hatnua), would allow city rabbis to conduct conversions, and would allow potential converts to choose the beit din (rabbinic court) they wish to convert with. Currently, would-be converts are restricted to conversion via the rabbinic court in their place of residence.
The bill's supporters say it will ease the process of conversion to Judaism while ensuring that state-recognized conversions adhere to the requirements of halakha (Jewish law). Opponents warn that it could effectively strip the Chief Rabbinate of its authority over conversions, and could ultimately lead to rabbis being forced to accept a definition of Jewishness that contradicts Jewish law.
Stern reportedly received a promise of Coalition support for his bill, and in exchange, retracted objections he had made to various clauses in the Enlistment Bill.
Sources in Hatnua and Likud explained, "Hatnua was unhappy that it was being forced to support three laws, each of which it had some problems with, without the party getting support for any law associated with it. That led to the agreement on promoting Stern's conversion bill."