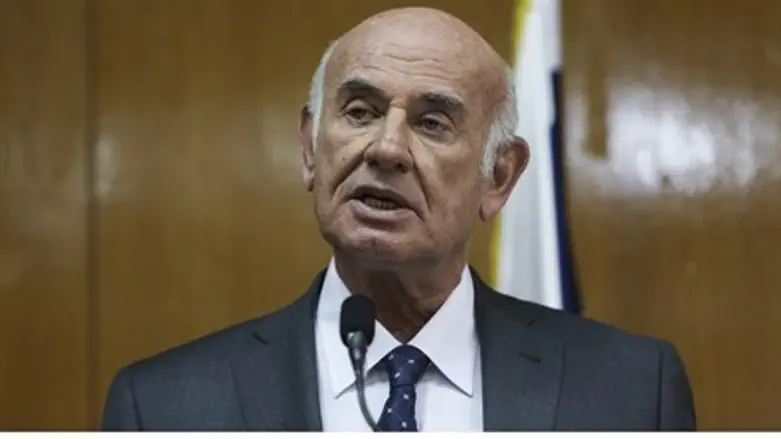 Science and Technology minister Yaakov Peri
Flash 90
Science Minister Yaakov Peri (Yesh Atid) said Thursday that if the Palestinian Authority refused to extend negotiations with Israel past the deadline set by U.S. Secretary of State John Kerry, Israel would withhold release of the last batch of terrorists it agreed to let go as part of the deal to begin negotiations.
In an interview with Yisrael Hayom, Peri attacked PA Chairman Mahmoud Abbas. "He is a very difficult partner to work with," Peri said of Abbas. "There is almost nothing they are not making very difficult in these negotiations. They don't know how to compromise."
As part of the deal to restart talks after a three year hiatus, Israel, at the PA's insistence, committed to releasing over 100 terrorists who have been in Israeli prisons for many years. So far, three groups of terrorists have been released, and a fourth group is scheduled to be let go at the end of the month. As far as Israel is concerned, Peri said in the interview, there is a link between the releases and the negotiations, and if there are no talks going on there is no need to release more terrorists.
Although details of the negotiations are being kept quiet by all sides involved, recent reports have indicated that little, if any, progress is being made in the talks. In recent weeks, the idea has been discussed of extending the talks past the original nine-month deadline Kerry set last year, which is up in April.
However, PA officials have repeatedly said that they would not agree to such an extension. In the latest rejection, PA chief negotiator Saeb Erekat said last week that "there is no meaning to prolonging the negotiation, even for one more additional hour, if Israel, represented by its current government, continues to disregard international law." Blaming Israel for the slow pace of talks, Erekat said "if there was a committed partner, we wouldn't even have needed nine hours to reach that deal."
However, Peri said that the truth was quite different. "They are doing everything they can to make talks difficult," he said of the PA negotiators. "Whenever you think you have finished off an issue and come to a deal, you realize that for them it is just a starting point," with further demands made until they get all the concessions they originally demanded. "They have a very hard time compromising," Peri said.