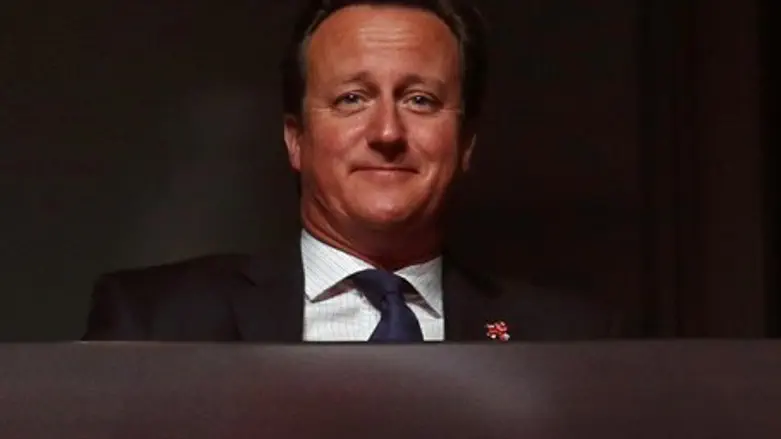 Britain's Prime Minister David Cameron
Reuters
British Prime Minister David Cameron arrived in Israel on Wednesday for a two-day visit during which he will meet Israeli and Palestinian Authority (PA) leaders to discuss the Israel-PA "peace talks" and Iran.
It is Cameron's first official visit since the Conservative leader took over as premier in 2010.
After landing at Ben Gurion airport near Tel Aviv, Cameron went straight to Jerusalem to meet Prime Minister Binyamin Netanyahu for talks focusing on "Iran's military nuclear program, the peace process and bilateral ties," an aide to the Israeli leader said.
On Thursday, he was to meet with PA chairman Mahmoud Abbas in the Judean city of Bethlehem, Palestinian officials said.
Cameron's visit comes as the US-led peace negotiations struggle to make headway before an April 29 deadline, with US Secretary of State John Kerry pushing both leaders to accept a framework proposal that would extend the talks to the year's end.
Ahead of his arrival, Downing Street said Cameron would focus on the opportunities that a peace agreement would bring.
"Secretary Kerry's efforts to secure agreement on a negotiating framework that could lead to peace are entering a critical phase. And I'll be using my visit to support those peace efforts," Cameron was quoted as saying before leaving London.
He said he would encourage both leaders "to take the final difficult steps towards peace" which could offer both sides a future that was both secure and prosperous.
But Netanyahu was expected to use the meeting to discuss Iran and was likely to show Cameron what he believes is proof of Iranian involvement in a weapons ship seized in the Red Sea last week which was allegedly being sent to Palestinian militants in Gaza, Voice of Israel public radio said.
During the afternoon, Cameron will address the Knesset, before meeting with President Shimon Peres. Some Opposition MKs may heckle Cameron's speech. He will also visit the Yad Vashem Holocaust memorial.
Cameron and Netanyahu will hold a joint news conference in the afternoon, after which they will dine together.
The British leader, who is accompanied by a delegation of business leaders, wants to use the visit to strengthen business ties with Israel and the PA, Downing Street said.
Cameron had been scheduled to visit Israel and the PA territories in mid-February but stayed in London to deal with winter storms which battered the country.