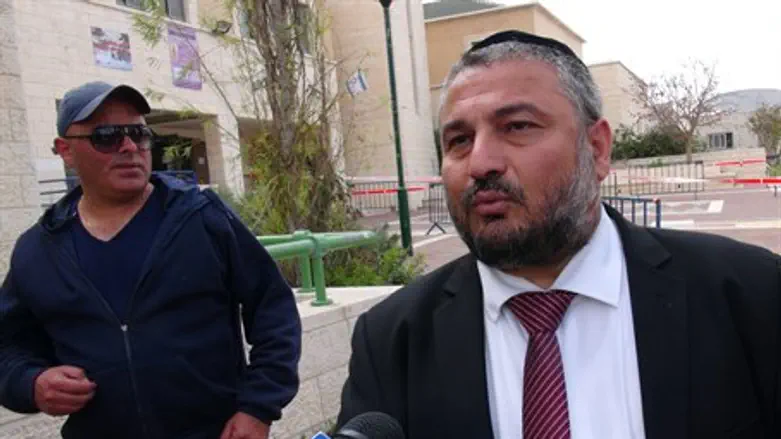 Moshe Abutbul
Hezki Ezra
Moshe Abutbul has been re-elected as mayor of Beit Shemesh.
The hareidi candidate defeated his rival, Eli Cohen, by a margin of some 1,000 votes, a tally of the votes in Tuesday's re-vote found.
The voter turnout stood at 76 percent when polls closed, compared to 69.32 percent in the first elections in October of 2013.
The Supreme Court last month upheld a decision to call for new elections in the city in the wake of allegations of widespread fraud in the original election, back in October. Police arrested several men on elections day who had hundreds of ID cards that were not their own, and residents of the city have alleged other elections-day irregularities as well.
Supporters of Abutbul, who is a representative of the Shas party and who won the original elections by roughly 950 votes, accused the Supreme Court of calling for a re-vote for political reasons. They argued that the alleged fraud was not on a scale that could have affected the outcome of the vote.
Speaking to the hareidi Kol Chai radio station after the results were announced Tuesday night, Abutbul said, "We are starting on a new path. It has been proven that the residents of Beit Shemesh love us."
Abutbul's victory is seen as a victory for the Shas party over the religious Zionist Jewish Home, which supported Cohen.
Jewish Home party head, Economy Minister Naftali Bennett, was among those who said the second round of elections the "last chance" for the city. The battle between Cohen and Abutbul has been portrayed by many as a battle for the future of Beit Shemesh; specifically, whether the city will maintain a non-hareidi majority or will become a primarily hareidi city.
Speaking to Arutz Sheva earlier Tuesday, Abutbul urged calm and said that the most important thing is that Beit Shemesh residents treat each other with respect
"We need to get through today peacefully. This is a critical day for us. I call on everyone listening to me here on Arutz Sheva to exercise restraint, and to show respect. It's important that this not cause permanent scars [to the city]," he added.
Meanwhile, a second re-vote was held on Tuesday, this one in the city of Nazareth, where the Supreme Court had ordered a re-vote following accusations of vote rigging and extremely close results.
When voting was over in October, it was initially declared that candidate Ali Salem had defeated incumbent Ramez Jaraisi by 22 votes. Salem was sworn in as mayor, but Jaraisi filed an appeal to the District Court, which determined that certain disqualified votes should be counted. This caused a reversal of the results, with Jaraisi winning the mayoral contest by nine votes.
It was then Salem's turn to appeal to the Magistrates Court, and the matter finally reached the High Court, which decided that the close and contested result must lead to a revote, but added that Salem will continue to serve as mayor for the time being.
Salem won Tuesday's re-vote as well.