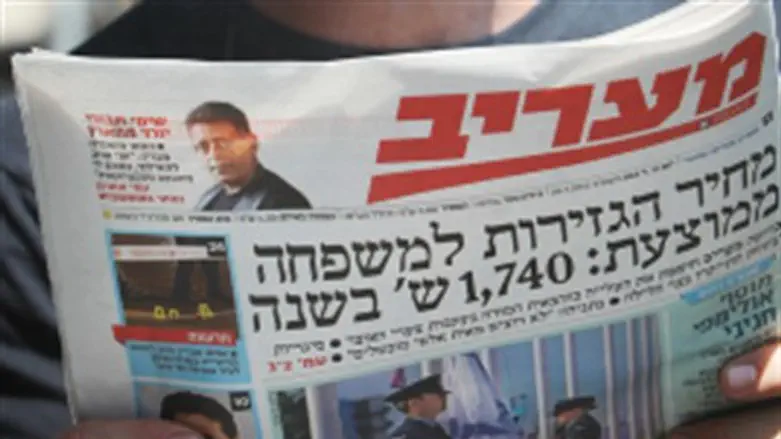 Maariv
Israel news photo: Flash 90
Workers at the embattled Maariv newspaper met Monday night and voted to file complaints with police against the owner of the newspaper, Shlomo Ben Tzvi. According to the workers, Ben Tzvi has failed to deposit money into workers' pension accounts.
Ben Tzvi, who owns right wing newspaper Makor Rishon, bought the Israeli daily in lat 2012, saving it from certain bankruptcy and closure. Despite cost-cutting and efforts to bolster the paper, Maariv is still losing readership, advertising, and money. On Sunday, the paper did not come out. Speaking at the Eilat Journalism Conference, Ben Tzvi said that he would be converting the paper into a free daily, to be distributed on Sunday through Thursday (the Friday edition would still cost money).
Because of its ongoing losses, Ben Tzvi last week revived bankruptcy proceedings for the newspaper, seeking court protection while he reorganizes the newspaper. Ben Tzvi had committed to put NIS 2 million into the newspaper, but it owes employees NIS 10.4 million, in addition to tens of millions it ows to other creditors.
In order to cut costs, Ben Tzvi told the Jerusalem bankruptcy court that he needs to layoff as many as 130 workers, a move that under the purchase agreement requires court approval. Attorneys for the workers said Monday night that there would be no firings, and that by going to court he had essentially abdicated control over the paper.
The workers said that they no longer trusted Ben Tzvi; although he claimed he had no money to publish Maariv on Sunday, they noticed that Makor Rishon appeared as usual last Friday. They accused him of using Maativ's resources in order to improve Makor Rishon.