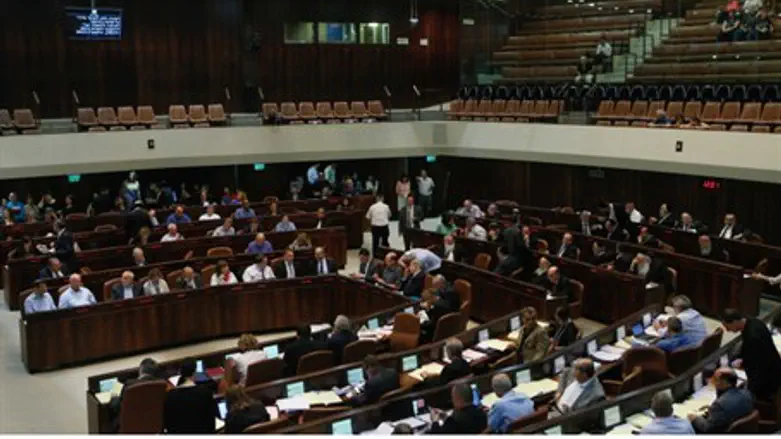 The Knesset
Flash 90
The Opposition has rejected a compromise plan suggested by Knesset Speaker MK Yuli Edelstein (Likud-Beytenu) regarding the discussion of three controversial laws that the Opposition opposes. Edelstein succeeded Monday in convincing Prime Minister Binyamin Netanyahu and Coalition Chairman Yariv Levin to allow an extra day of Knesset debate this week, for discussion of the three laws. The Opposition said Monday that this was "too little, too late."
The laws include the Governance Bill, which would significantly raise the voting threshold, risking several small parties' ability to enter Knesset; the Enlistment Bill, which will see hareidi yeshiva students become eligible for the draft for the first time in Israel's history; and the National Referendum bill, which would require the government to hold a national referendum before conceding Israeli territory to a foreign entity.
After the Opposition declared it will boycott the debates, Edelstein made clear that he will be willing to set a new schedule for debating about the laws, and received Netanyahu's assent. He relayed the offer to Opposition heads, in the hope that they would accept it.
"They are giving us a few crumbs of a few more hours on Thursday, the Fast of Esther," said Labor Chairman Yitzhak Herzog on IDF Radio. "The Knesset Speaker should have halted the discussions."
"Throughout the process, the sides have climbed trees that were too high," Edelstein said Monday. "There is no place for boycotts in the Israeli Knesset. A boycott of the plenum is a boycot of democracy and that is why I insisted on pressuring the Coalition and the prime minister to cede some ground."
The marathon debate and vote on the laws begins Monday at 11:00 and is to end at 2:00 a.m. Thursday morning.