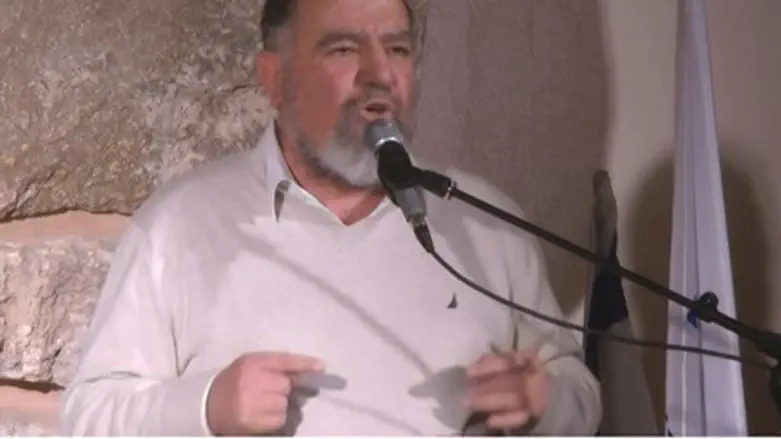 Gordon Mesika in Itamar (file)
Yoni Kempinski
Shomron Regional Council head Gershon Mesika took part Sunday in a memorial for the five murdered members of the Fogel family Hy''d, at the Itamar Yeshiva. At the event, Mesika called on the Israeli government to legislate the death penalty for terrorists accused of murder.
"Today, moments before an additional release of terrorists, it wouldn't be disconnected from reality to think the murderers of the Fogel family might be freed from jail within seven years. I call on the Israeli Knesset and governmental representatives sitting here to initiate legislation sending to their death murderers of the kind that murdered the Fogel family," declared Messika.
Udi and Ruth Fogel were brutally murdered in 2011 along with three of their six children, including their three-month old daughter Hadas. The murderers were Arab terrorists armed with knives and guns who snuck into their home in Itamar, Samaria, on a Shabbat night.
The cousins Amjad and Hakim Awad were aged 19 and 17 when they slaughtered the young family in the middle of the night. Just this January, an appeal was upheld overturning the light five-year sentence of an accomplice to the plot, and extending the sentence to seven years. 
Speaking about the implementation of a death penalty for terrorists, Mesika emphasized "it's the will of the people. It was also the recommendation of the army, and the demand of my friend here (Minister) Yisrael Katz (Likud-Beytenu)."
"I call on you, ministers in the government of Israel, in a moral demand, to defend the residents of the state of Israel from these beastly people by bringing legislation allowing the death penalty as punishment for baby murderers," said Mesika. "It's in your hands."
There have been past calls for the death penalty in the case of the Fogel murderers, with former Chief IDF Rabbi Avichai Ronski in 2012 saying the terrorists shouldn't have been taken alive.
Last August, MK Ayelet Shaked (Jewish Home) argued that the only way to prevent terrorists being freed in the "gestures" of releases by the coalition government to further peace talks was to implement the death penalty.