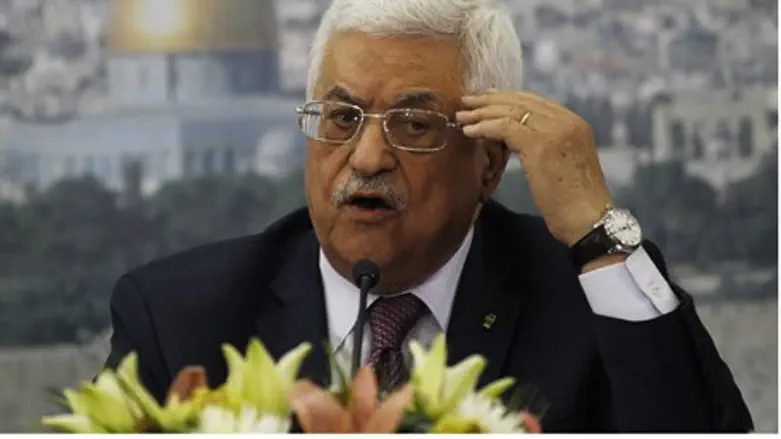 Palestinian Authority Chairman Mahmoud Abbas
Reuters
Palestinian Authority (PA) Chairman Mahmoud Abbas stood his ground on Friday and reiterated that he will not recognize Israel as a Jewish state.
Speaking to youth activists of his Fatah party and quoted by The Associated Press (AP), Abbas unequivocally declared that there is "no way" he will recognize Israel as a Jewish state and accept a Palestinian capital in just a portion of eastern Jerusalem.
Abbas further stated that he withstood international pressure in the past, when he sought UN recognition of a state of Palestine despite the United States' objections.
"They are pressing and saying, 'No peace without the Jewish state,"' he said, though not spelling out who is applying the pressure. "There is no way. We will not accept."
Prime Minister Binyamin Netanyahu has insisted that Abbas recognize Israel as a Jewish state, explaining that the Arabs' refusal to recognize Israel stands at the heart of the conflict.
The PA has already formally refused to recognize Israel as a Jewish state, stating that "the Arab states will never recognize a Jewish state."
Abbas said in his speech late Thursday that he would not compromise on a demand for a Palestinian capital in east Jerusalem, according to AP.
He also reiterated that the PA has options if the negotiations don't lead to a deal, adding he would resume the PA's quest for wider UN recognition, a step Israel and the U.S. adamantly oppose and that was suspended for nine months of the negotiations.
"I accept a valuable chance (for an agreement) if there really is a valuable chance, not just talk," said Abbas.
The comments come as U.S. Secretary of State John Kerry, who pushed the sides back to the negotiating table last July, is preparing a framework agreement for the sides in a bid to continue the talks beyond an April deadline.
On Thursday, Abbas's close aide Mohammed Shtayyeh said that the gaps between Israeli and PA negotiators only have widened in seven months of talks, adding he believes it would be pointless to extend talks because there is no common ground.
Netanyahu, meanwhile, gave interviews to Israeli media, excerpts of which were broadcast Friday night.
"I am ready to proceed, I am ready to reach the end of the conflict, but it must be the end of the conflict," Netanyahu told Channel 10 News. "We won't allow the establishment of a Palestinian state so that it will continue the conflict, so it needs to recognize the state of the Jews just like they are demanding from us that we recognize the state of the Palestinians."
Netanyahu said Jerusalem will remain under Israeli sovereignty.
In an interview on Channel 2 News, Netanyahu said that not all the communities in Judea and Samaria will be part of Israel in a peace agreement, but will do his utmost to ensure that as many as possible do remain under Israeli control.
"I will not leave a single Israeli without Israeli security, without the full security that we can ensure for every Israeli," he said, adding, "We of course will not abandon any Israeli citizen."
Asked whether he would be willing to consider evicting Jewish communities as part of a future peace deal, Netanyahu replied, "It's obvious that some of the settlements will not be part of an agreement. Everyone knows that. I will ensure that it's the smallest number possible, if we get to that point. And I will not abandon any Israeli."
(Arutz Sheva's North American Desk is keeping you updated until the start of Shabbat in New York. The time posted automatically on all Arutz Sheva articles, however, is Israeli time.)