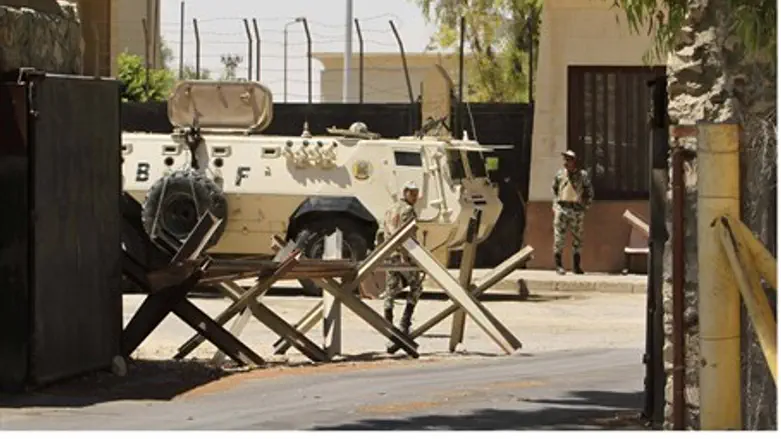 Egyptian soldiers guard Rafiah crossing
Reuters
Egypt on Friday deported dozens of women activists who had flown in to Cairo but been barred from entering the country in their bid to reach neighboring Gaza, an airport official told AFP.
About 100 women, most of them from Europe and the United States, had hoped to enter the Palestinian enclave through Egypt's Rafiah border crossing to celebrate International Women's Day on Saturday.
Eleven women were sent back to Istanbul, another 22 to Paris and six to Frankfurt, the official said, according to AFP.
They were among 65 activists deported over the past 24 hours, some from the United States, France, Belgium and Switzerland, the official added.
Two members of the delegation, Northern Irish Nobel Laureate Mairead Maguire and American anti-war activist Medea Benjamin, were deported earlier this week.
Egypt controls the Rafiah border crossing into Gaza, the only one that bypasses Israel, and is accused of colluding with the Jewish state in blockading the territory, ruled by the Hamas terrorist organization.
Authorities have urged the delegation to abandon the trip over safety concerns, foreign ministry spokesman Badr Abdelatty said in a statement Thursday.
"Given the current extraordinary security conditions in northern Sinai and the difficulty of ensuring the security" of the activists until they reach Rafah, the timing is "not appropriate," the statement, quoted by AFP, said.
Ann Wright, an American organizer of the delegation, told AFP that eight American women were in Cairo and that some of them will wait to see if they can go ahead with the trip.
"Some of the delegates will probably go home in the next couple of days," Wright told the news agency.
"But some others will stay to see if the government will allow us to go (to Rafiah) at the last minute", she added.
Another organizer, from France, told AFP that "requests to pass through the Rafiah crossing for a dozen French women will be sent to Egyptian authorities by the French embassy."
While the government of former Islamist president Mohammed Morsi was friendly with Hamas, the military-led government that ousted him has cracked down on the group, which it accuses of a December attack on Egyptian police headquarters, and of planning church bombings in Sinai last Christmas.
Hamas has denied the Egyptian government's allegations, claiming they were an "attempt to demonize Hamas".
On Tuesday, in the latest step in Egypt's crackdown on Hamas, a court outlawed the terror group and ordered all of its assets seized.
(Arutz Sheva's North American Desk is keeping you updated until the start of Shabbat in New York. The time posted automatically on all Arutz Sheva articles, however, is Israeli time.)