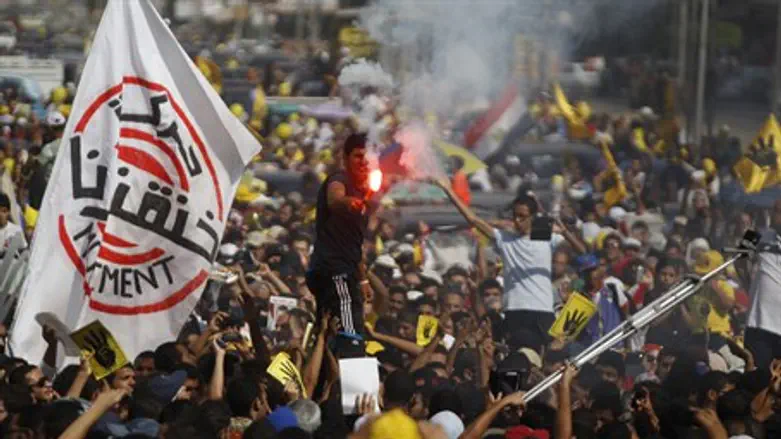 Members of the Muslim Brotherhood shout sloga
Reuters
Saudi Arabia on Friday blacklisted the Muslim Brotherhood and two Syrian jihadist groups as terrorist organizations, ordering citizens fighting abroad to return home within 15 days or face imprisonment, AFP reports.
The move represents a major escalation against the Brotherhood of deposed Egyptian president Mohammed Morsi and indicates rising concern in Riyadh over the potential risks to domestic security of Saudi extremists fighting in Syria.
Riyadh staunchly supports Sunni-led rebels battling to overthrow Syrian President Bashar Al-Assad but has long feared blowback from radical jihadist groups, particularly after a spate of attacks by a local Al-Qaeda franchise from 2003 to 2006.
Friday's move came two days after Saudi Arabia, Bahrain and the United Arab Emirates recalled their ambassadors from Qatar, which supports Islamists groups in the region and was a backer of the Brotherhood.
A list published by the interior ministry designates as terrorist organizations the Brotherhood, Al-Nusra Front, is Al-Qaeda's official Syrian affiliate, and the Islamic State of Iraq and the Levant (ISIS), a jihadist group fighting in both Syria and Iraq.
Also blacklisted are Shiite Muslim rebels known as Huthis in northern Yemen and "Hezbollah inside the kingdom," a reference to a little-known Shiite group in` overwhelmingly Sunni Saudi Arabia.
The interior ministry, in a statement carried by state media, said it will prosecute anyone backing these groups "financially or morally", or who express sympathies for them or seek to promote them through media and social networks.
It also forbids "participation in, calling for, or incitement to fighting in conflict zones in other countries."
A month ago, Saudi King Abdullah decreed jail terms of up to 20 years for belonging to "terrorist groups" and fighting abroad.
Saudis fighting abroad were given a 15-day ultimatum Friday to return home or face imprisonment.
Prison also awaits anyone calling for demonstrations or taking part in them, the ministry said.
A video released this week featured a testimony from a Saudi who fought in Syria, and who shed light on the inter-rebel civil war that has been raging in the country.
In recent months, three powerful rebel alliances – among them Islamist groups - have teamed up to ISIS, which they have warned is even worse than Bashar Al-Assad's regime.
Former Saudi Internet celebrity Suleiman Al-Subaie, known as "Sambateek," revealed in a television interview that "all the (rebel) factions have begun to accuse one another of heresy. Each faction would accuse the other of heresy in order to fight it."
The regime used to be the only target, but now there is no fighting against it. All the factions are fighting one another. I advise the young people there to leave if they can," he added.
(Arutz Sheva's North American Desk is keeping you updated until the start of Shabbat in New York. The time posted automatically on all Arutz Sheva articles, however, is Israeli time.)