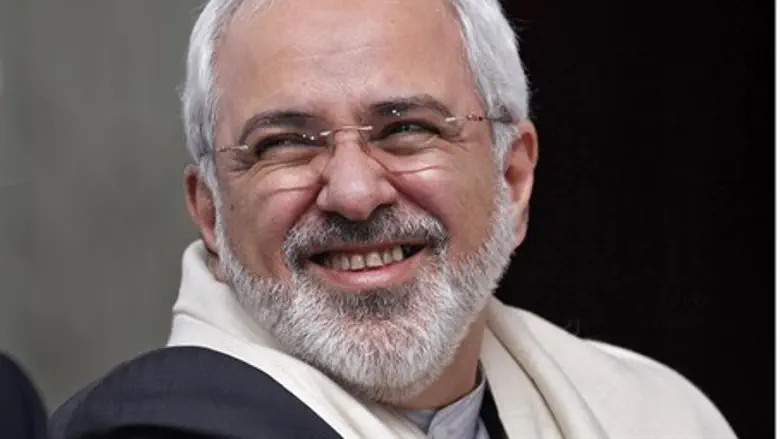 Iran's Foreign Minister Mohammad Javad Zarif
Reuters
Iran's Foreign Minister, Mohammad Javad Zarif, suggested on Thursday that there was a connection between the weapons ship seized by Israeli naval commandos and the AIPAC policy conference that was held in Washington this week.
The BBC reported that Zarif rejected Israel's claims that his country was behind the shipment of Syrian-made rockets for Gaza, and dismissed them as "failed lies".
"An Iranian ship carrying arms for Gaza," he wrote on Twitter. "Captured just in time for annual AIPAC anti-Iran campaign. Amazing Coincidence! Or same failed lies."
The Klos C ship, which flew a Panamanian flag, carried dozens of long-range B-302 missiles. It was intercepted by Israel in the Red Sea and is being transferred to the Eilat port.
Defense Minister Moshe Ya'alon explained on Wednesday that the arms vessel had made its way from the Iranian port of Bandar Abbas to a port in Sudan, where the arms could have then been transferred to the Sinai Peninsula and from there to Gaza via the underground smuggling tunnels.
Zarif is not the only Iranian official to have denied his country's connection to the ship. An unnamed Iranian military official told the state-run Iranian television's Arabic-language Al-Alam channel on Wednesday, "We completely deny this report which is totally without foundation."
Hamas, the terror group which runs Gaza, also denied it had any connection to the ship.
"This was all made up in order to argue that we are terrorists and give justification for the continuation of the blockade," Hamas spokesman Mushir Al-Masri told Channel 10 News.
"The whole world knows what the relationship between Iran and Hamas is today," he added.
Prime Minister Binyamin Netanyahu, unfazed by Iran's denials, said on Thursday," Now the government of Iran is saying it's all lies That ship will get to Eilat in a few days, and we shall see who is lying, and we shall expose what Iran is really doing."