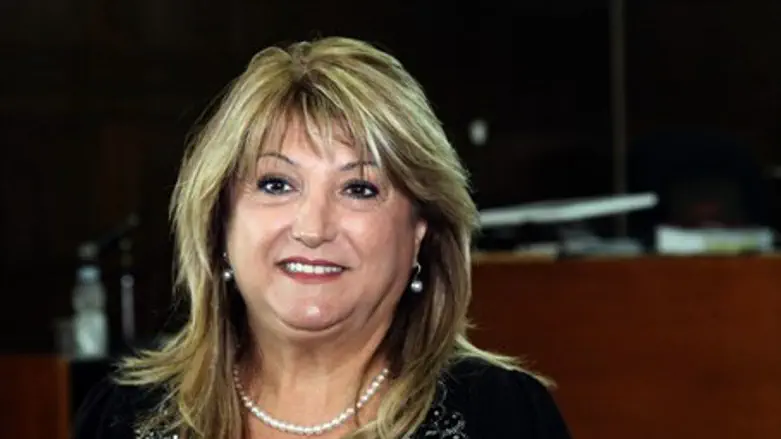 Shula Zaken
Flash 90
The prosecution on Thursday informed attorneys representing Shula Zaken, the close aide of former Prime Minister Ehud Olmert, that it would be stopping the talks with them regarding the possibility of Zaken testifying against Olmert.
"The decision was made while examining the totality of the circumstances and weighing various considerations, including the advanced stage of the cases against Zaken - which have reached a point where one can request to present additional evidence to the court only under highly unusual circumstances, along with the fact that Ms. Zaken brought no supporting evidence from outside," said a statement from the prosecution.
Last week it was reported that Zaken was edging closer to testifying against Olmert and signing a plea bargain for a reduced sentence.
Earlier this week, Zaken gave a new testimony to the police, but prosecutors came to the conclusion that the new evidence provided by Zaken was not enough to assist their case against Olmert.
Zaken is long thought to have known much more about Olmert than she was willing to reveal, and has remained loyal to her former boss through both the Talansky affair and the Rishon Tours affair, in which ultimately she was punished, while Olmert was found not guilty.
Lately, however, she has changed her attitude towards Olmert, after the former Prime Minister testified against her. Last week it was reported that Zaken underwent a "hatarat nedarim" ceremony in synagogue in which her vow to her father that she would not testify against Olmert was rendered null and void.
Zaken had reportedly promised her father on his deathbed that she would not testify against Olmert, whom her father had greatly admired.
Responding to the prosecution's decision, Zaken's attorneys Ofer Bartal and Dov Gilad Cohen said, "The judiciary and the public were given a golden and unique opportunity, to reveal all that happened in the immediate vicinity of Ms. Zaken throughout her work. It appears as though the opportunity has been missed for the time being. Ms. Zaken tried to expose events involving others that she was witness to. She reached her hand to the State and the State refused to shake her hand. We hope that this decision will change in the future, in light of it being wrong."