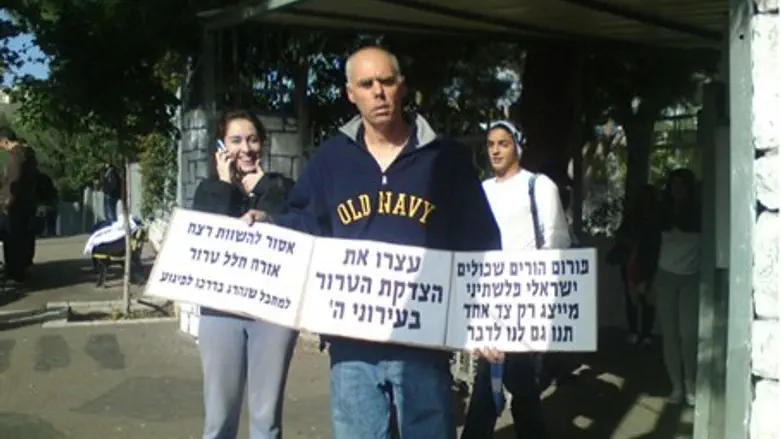 Ron Kerman
Almagor
Ron Kerman, whose 17-year-old daughter, Tal, was killed in the 2003 bombing of bus line 37 in Haifa, spoke to Arutz Sheva Thursday about the terror tragedy that took his daughter away 11 years ago. "Eleven years ago tonight, I had no idea that within 14 hours my entire world would be destroyed," said Kerman. "I was at home, hoping that terror would not strike my small family of four. I was falsely comforted by the statistics that the chances of getting killed or hurt in a terror attack were relatively low."
That night, Kerman said, "I still had faith that the country's leadership could protect my family. I believed that elected officials knew what was best for us, and that it would be best to leave them alone to do their job. Those were our last moments of foolish ignorance," he said. "They were sweet moments that I was not even aware of at the time."
On the afternoon of March 5, 2003, Kerman heard, like all Israelis, about the bomb that had struck at a bus in Haifa, where he and his family lived. "I had no idea what was about to happen, and in fact felt calmed after I called the authorities and did not hear the names of anyone I knew on the list of the victims." In the end, though, he learned the bitter truth, and went down to the pathologist's office to identify his daughter's body. Tal was killed for the "crime" of taking a bus home from school, Kerman said.
"She was only 17, and after her murder my life changed profoundly," Kerman said. "I started getting involved in causes that I would never have been a part of before." Last June, for example, Kerman protested when the IDF released a a soldier who refused orders to serve in Judea and Samaria (Shomron) due to his belief that Israel should withdraw from those regions. The IDF decision set a dangerous precedent, Kerman said. "We can't have everyone making his own rules," he told Arutz Sheva. "We have to learn to follow the rules in our democracy, not each person doing what he sees fit."
Kerman has also been a vocal opponent of terrorist release.
More than anything, Kerman said, "I fight to keep Tal's memory alive. It's a fight that I will eventually lose, with the passage of time, but I want to keep Tal's memory alive for the people of Israel as long as I can."