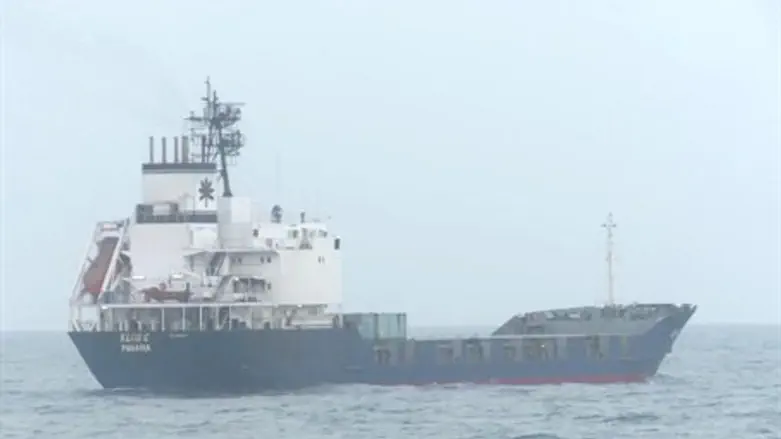 Klos C Weapons Ship
IDF Spokesperson's Office
The IDF said Thursday that it had "clear proof" that the Klos C, the ship that the IDF intercepted and which was carrying weapons bound for Gaza, was dispatched by Iran. Tehran earlier denied any connection to the ship.
"We have clear information that the weapons on the ship were Iranian," said IDF spokesperson Moti Almoz. That the ship took an indirect route to Sudan, its eventual destination – traversing the Persian Gulf through the Straits of Hormuz to Iraq and then back again – was irrelevant, he said. "The Iranians tried to use the Syrians to hide the origin of the weapons," Almoz said.
Almoz praised Israeli intelligence for its work on seizing the ship. "Iran's fingerprints on this operation are very clear," he said. "They moved the weapons from Syria to Iran, and hid the weapons in cement bags from Iraq. All of this was discovered by Israeli intelligence," he said.
He added that there was no connection between the seizure of the ship and Prime Minister Binyamin Netanyahu's visit to the U.S. this week.
Speaking late Wednesday, State Department spokeswoman Jen Psaki said that the U.S. had supplied Israel with information on the ship. "Soon after becoming aware of the imminent movement of the suspected vessel, the White House directed the Department of Defense to monitor the vessel," Psaki said, adding that the U.S. had offered to seize the ship if Israel so wished, but that Israel had chosen to take the lead in the operation.