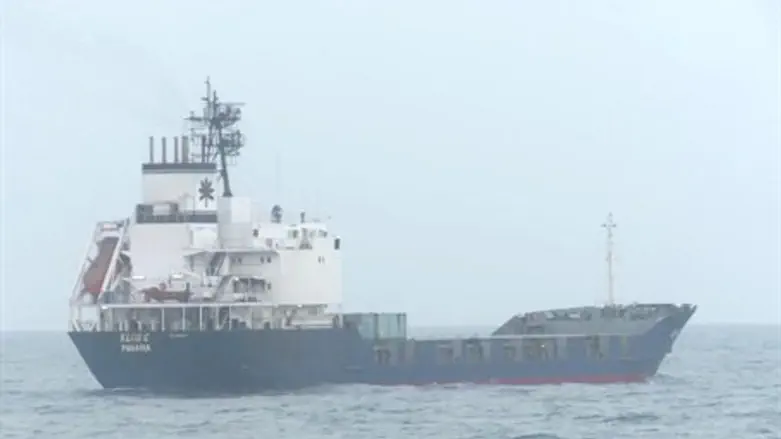 Klos C Weapons Ship
IDF Spokesperson's Office
Both Iran and the terrorist groups which operate in Gaza denied on Wednesday that they had any connection to the Klos C, the ship that the IDF intercepted and which was carrying weapons for Gaza.
"We completely deny this report which is totally without foundation," AFP quoted an unnamed Iranian military official as having told state-run Iranian television's Arabic-language Al-Alam channel.
Hamas, the terror group which runs Gaza, also denied it had any connection to the ship.
"This was all made up in order to argue that we are terrorists and give justification for the continuation of the blockade," Hamas spokesman Mushir Al-Masri told Channel 10 News.
"The whole world knows what the relationship between Iran and Hamas is today," he added.
Another Hamas spokesman, Taher Nunu, also denied that the group had any involvement with the ship, dismissing Israel's claims as a "Zionist fabrication."
"The Zionists' story is a fabrication meant to justify the blockade on Gaza - as if there is a seaport and ships that enter it," Nunu said. "Gaza is besieged and the ship was found in the Red Sea, thousands of miles away from Gaza. This is a lie of the Zionist occupation."
Defense Minister Moshe Ya'alon explained earlier that the arms vessel had made its way from the Iranian port of Bandar Abbas to a port in Sudan, where the arms could have then been transferred to the Sinai Peninsula and from there to Gaza via the underground smuggling tunnels.
An Islamic Jihad official in Gaza also said that the group has no information on the weapon shipment intercepted by Israel.
The official, who spoke on the condition of anonymity, told the Bethlehem-based Ma'an news agency that he has "no clear data on the subject, but if the information is true it is a medal of honor to the one who sent the shipment."
IDF Chief of Staff Benny Gantz said Wednesday, after the ship was raided, that the weapons confiscated included "heavy warheads that might lead to serious damage to the State of Israel and its residents, during wartime and at any given time."
Prime Minister Binyamin Netanyahu said the weapons ship showed Iran's true face and stressed, "This is the true Iran and this state cannot possess nuclear weapons. "We will continue to whatever is necessary in order to defend Israel's citizens."
Israel's Foreign Ministry has stated that it would file a complaint to the UN Security Council over the shipment. Iran has violated Security Council resolutions forbidding weapons sale from the Islamic Republic as well as arms smuggling to Gaza.