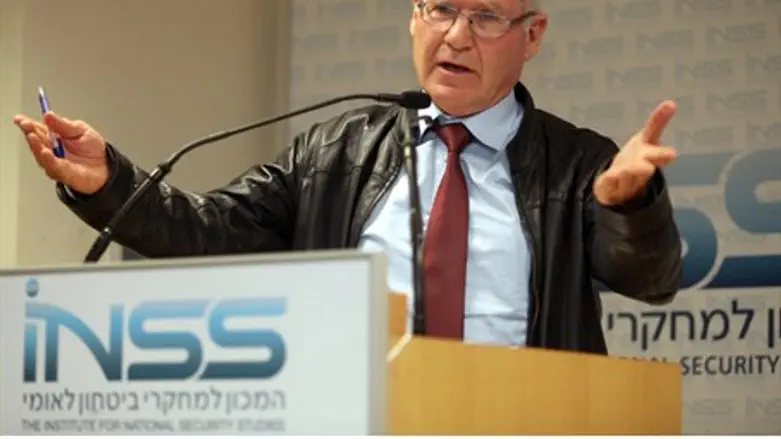 Amos Yadlin
Flash 90
The interception of the Iranian weapons ship carrying missiles to Hamas in Gaza was a "great achievement for Israeli intelligence," Maj. Gen. (res.) Amos Yadlin, former military intelligence chief and currently the head of the Institute for National Security Studies, said Wednesday.
The ship, which flew a Panamanian flag, carried dozens of long-range B-302 missiles.
"The rockets were made in Syria, using Iranian planning," Yadlin told Army Radio. "This type of rocket has been fired towards Israel in the past, but its range has been extended and is about 120 kilometers in my estimation. There is no real qualitative change in these new rockets, but the shipment should have been stopped and the IDF has proven that its intelligence, operational and decision-making ability are amazing."
Yadlin said that the IDF should be commended for its operation to foil the shipment.
"There are thousands of ships in the Red Sea, and to be able to know about the location of a specific ship and its cargo is nothing short of a great achievement for military intelligence," he said. "Imagine the embarrassment had the soldiers boarded the wrong ship and found nothing. This operation was highly impressive."
IDF Chief of Staff Benny Gantz said Wednesday, after the ship was raided, that the weapons confiscated included "heavy warheads that might lead to serious damage to the State of Israel and its residents, during wartime and at any given time."
"The IDF is committed to defend the State of Israel will not wait only for wartime [to act]," he warned, "and will operate [. . .] by the directive of the Minister of Defense to intercept any possible actions like it - in any given day, in any given arena, as much as we can."
Prime Minister Binyamin Netanyahu said the weapons ship showed Iran's true face and stressed, "This is the true Iran and this state cannot possess nuclear weapons. "We will continue to whatever is necessary in order to defend Israel's citizens."
Israel's Foreign Ministry has stated that it would file a complaint to the UN Security Council over the shipment. Iran has violated Security Council resolutions forbidding weapons sale from the Islamic Republic as well as arms smuggling to Gaza.