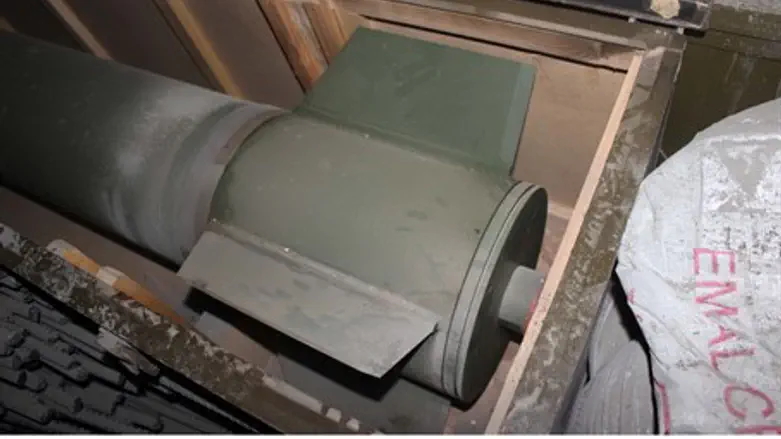 B-302 missile seized.
IDF Spokesman
"This morning, Wednesday March 5, 2014 Israeli naval Special Forces successfully intercepted and seized an Iranian arms vessel in the Red Sea, approximately 1,500 kilometers (930 miles) from the Israeli coast. Weapons of strategic significance were discovered on the Iranian vessel, including rockets capable of reaching various distances. The arms were destined to reach terror organizations in the Gaza Strip via Sudan. The IDF and Israeli intelligence's interception of the vessel successfully prevented the smuggling of these weapons whose ultimate purpose was to target Israeli civilians and disrupt life in Israel.
"It has once again become clear that Iran continues to be the greatest exporter of terror in the world, with the express purpose of destabilizing the Middle East. This, while in complete violation of international law and abuse of open maritime trading routes. Iran supplies financial support, arms and training to terror organizations in the region and around the world, and its failed effort to transfer the weapons discovered this morning, is additional evidence. The Iranian regime continues to deceive the world; while it shows its smiling face it continues to be the biggest threat to world peace.
"This Iranian attempt to transfer weapons to the Gaza Strip is additional evidence that Gaza is a terrorist entity under Iranian auspices preparing to strike deep into Israel.
"At this time, IDF forces are searching the shipping containers on board the Iranian vessel and question the crew, who do not appear to have been aware of the vessel's contents.
"I would like to express my appreciation to the IDF Chief of Staff and Commander of the Navy who commanded the operation; to the IDF Intelligence Corps, Naval Intelligence and the Mossad; to the IDF Air Force pilots who escorted the Naval ships en route to their objective; and to the sailors and commanders of the Navy's missile boats and special forces who executed their operation smoothly and professionally.
"We will continue to act responsibly and with prudence, and take all necessary measures at our disposal to ensure the security of Israel's citizens".