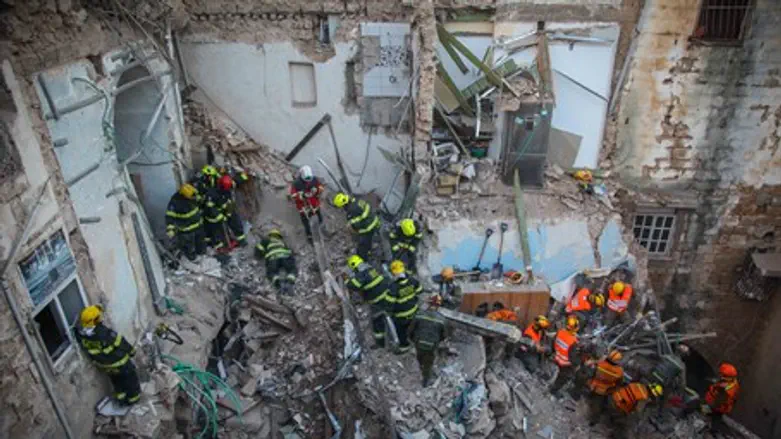 Rescue workers at Akko explosion (file)
Flash 90
Anonymous criminals damaged two sets of gas balloons in the Jerusalem neighborhood of Armon Hanatziv on Tuesday, apparently in an attempt to cause a lethal explosion.
Dozens of residents were evacuated from the two affected buildings on the streets Shlomo Ben Yosef and Robovitch after the leaks were detected. As a result of the attack, dangerously high concentrations of gas filled the area.
The criminals cut the main gas lines in both buildings; in one, they went further and lit a candle adjacent to the building in an effort to set off a blast.
Firefighting crews rushed to the scene to seal the leak, while police investigated whether the crime was nationalistically motivated. Armon Hanatziv is surrounded on three sides by Arab neighborhoods.
The neighborhood was targeted last November, as seven Arab youths from the neighboring village of Tzur Baher were charged with attacking toddler Avigail Ben-Tzion, along with her mother and siblings by pelting their car with stones. Avigail was seriously injured, but later released from the hospital.
The lethal dangers of gas were displayed in Jerusalem this January, when a leak sparked an explosion that rocked the southern neighborhood of Gilo, leaving four dead including a young couple and their toddler son. Residents of the blasted building still remain in a state of crisis as their homes are unfit for dwelling.
One elderly couple, Max and Maya Schwartz, aged 88 and 86 respectively, lost their daughter Linda in the blast. Linda was their only child, and their primary caretaker. In addition, the couple – who are both Holocaust survivors – lost their home, and suffered burns.
In February, two couples and an eight-year-old boy were killed in a gas explosion in Akko, in northern Israel. A 10-year-old girl ran out of the house after hearing the blast and survived, but lost her parents and brother. Police believe the blast may have been set off intentionally.