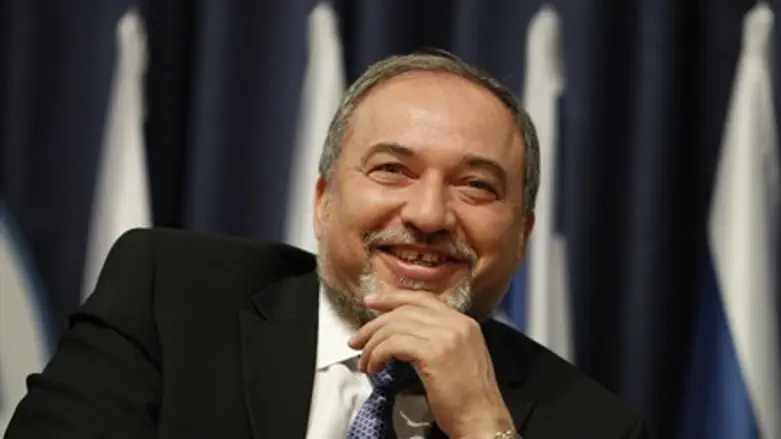 Foreign Minister Avigdor Liberman
Flash 90
Foreign Minister Avigdor Liberman (Yisrael Beytenu) welcomed the decision by an Egyptian court Tuesday to outlaw Hamas as a terrorist organization and seize its assets - and opined that Israel should use the opportunity to eject pro-Hamas MKs from the Knesset. 
"An Egyptian court decided to outlaw Hamas this morning," Liberman noted on his Facebook page.
"Hamas representatives still sit in the Knesset here," he continued. "Yisrael Beytenu will continue to work toward doing the same in Israel." 
United Arab List MKs Hanin Zoabi, Ibrahim Sarsour, and Masud Ganaim were revealed to have visited the home of Hamas leader Dr. Aziz Duwaik in 2009. Zoabi, Sarsour, and Ganaim have each supported terrorist groups working against the state of Israel over the past several years. 
Zoabi participated in the infamous Mavi Marmara incident in 2010, in which IDF soldiers were brutally attacked, and is infamous for provocative speeches, including one in which she said that Israel has "no right to a normal life" and a later address claiming that "the Israeli occupation" was behind the murder of Israelis in Bulgaria. Recently, she declared that Israel should "thank her" for allowing Jews to live in the Jewish State. 
Before the last elections, the Central Elections Committee banned Zoabi, under a clause requiring candidates and parties not to work against Israel's character as a Jewish, democratic state. However, the Supreme Court later overturned the decision and allowed Zoabi to run.
Sarsour has praised Hamas multiple times. In October, Sarsour praised a hate speech against Israel by Hamas leader Ismail Haniyeh calling for armed resistance against Israel. Sarsour also termed Jews "prophet murderers." A short time later, he declared that the Biblical forefathers of the Jewish nation actually practiced Islam. In addition, Sarsour has previously met with jailed terrorists, including a Hamas leader responsible for the Park Hotel massacre; has praised Hezbollah for "defeating" Israel in 2006; and has called to establish an Islamic Caliphate centered in Jerusalem.
Ganaim has remained somewhat under-the-radar by comparison, but has also expressed anti-Israel sentiments before. Besides for the 2009 Hamas visit, he refused to stand up during Hatikva in 2013 and headed an anti-Israeli protest with more than 20,000 Arabs attending in 2009. 
Not to be outdone, Arab MKs from other anti-Zionist lists, Balad and Taal, have been every bit as provocative as the three from the United Arab List.