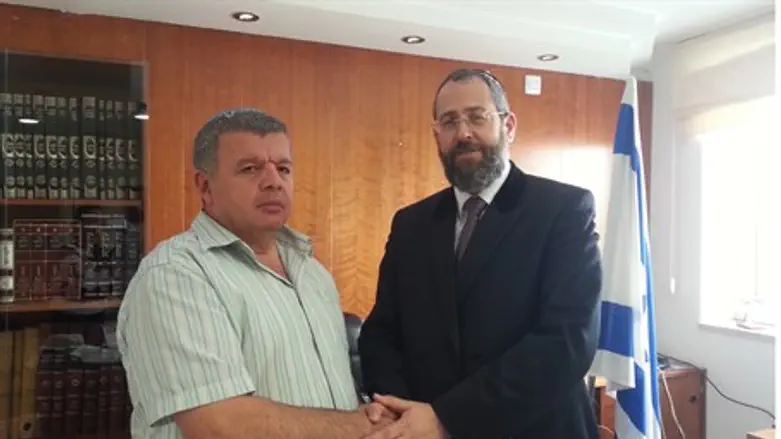 Kalfa with Rabbi Lau
Office of Zevulun Kalfa
Chairman of the Agricultural Caucus in the Knesset, MK Zevulun Kalfa (Jewish Home), met with Ashkenazic Chief Rabbi David Lau Tuesday to discuss the drought and the Shemita agricultural sabbath. 
Rabbi Lau announced during the meeting that a mass prayer session for rain will be held on March 13, the Fast of Esther, at the Western Wall. The session will end with the afternoon mincha prayer.
The Fast of Esther is traditionally observed in memory of the biblical figure, who prayed and fasted for three days for the Jewish people to be saved from an extermination decree from the ancient Persian government. Like all fast days, it is considered an especially appropriate time to ask for what the Jewish people need most. 
"The Torah says, 'I shall send them rain in its season,'" Rabbi Lau explained. "The Master of the World teaches us that the rain is 'ours' because it depends on the Jewish people and their prayers."
"In a visit to northern Israel, I saw the damage the drought has wreaked," Rabbi Lau continued. "Soon we will be feeling it in the marketplace and in our homes. With G-d's help, we will stand at the walls of the Kotel (Western Wall) at noon on the Fast of Esther and ask for blessed rains and sustenance." 
Kalfa welcomed the announcement. 
"Drought is not only the farmers' problem; unfortunately, we all feel it, especially in our pockets," the MK noted. "Apart from damage to crops - which are withering - the [drought] is also harming animals and driving up water prices. We should pray and cry out to G-d to grant us compassion and open the skies." 
Experts have become gravely concerned with the drought, which some claim is the worst since 1927. Last month, the Water Authority announced that the Kinneret (Sea of Galilee)'s water level has dropped by four centimeters since the rainy season began, compared to a 1.97 meter rise over the same five-month period in 2013. 
The Israeli Farmers' Federation (IFF) has already turned to the government for help dealing with the crisis. 
"Farmers all over the country are forced to irrigate their fields and orchards, and if the situation continues like this, they might suffer heavy expenses," IFF spokesman Avshalom Vilan explained. "This may lead to a serious crisis for farmers that will also affect crops and produce." 
"We need to find a quick and immediate solution with the help of the Israeli government, to prevent heavy damage which is bound to affect the spring and summer harvest," he added.