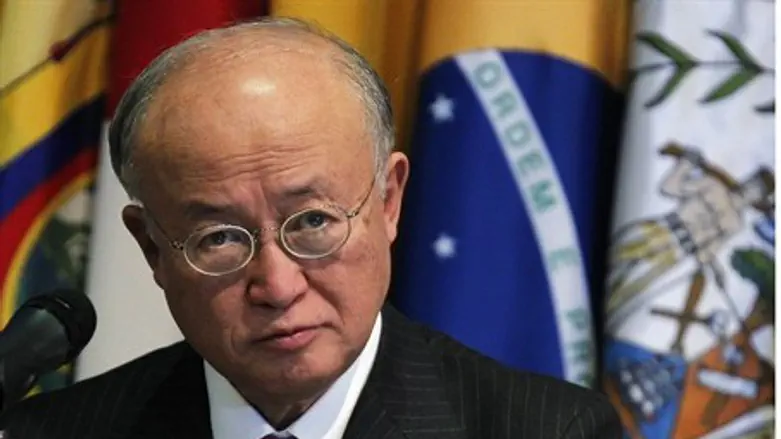 IAEA Director General Yukiya Amano
Reuters
The head of the UN's atomic agency said on Monday that Iran is reducing its most proliferation-prone nuclear stockpile as required by its deal with world powers, Reuters reported.
At the same time, much work remains to be done to resolve all concerns about Tehran's activities, said Yukiya Amano, director general of the International Atomic Energy Agency (IAEA).
Among the measures Iran is taking since the interim agreement took effect on January 20 is the dilution of its stock of higher-enriched uranium to a fissile concentration less suitable for any attempt to fuel an atomic bomb, he said.
Amano indicated that Iran had made sufficient progress in this regard to receive a scheduled March 1 installment of $450 million out of a total of $4.2 billion in previously blocked overseas funds.
The comments are in line with the IAEA's latest report on Iran, which said the Islamic Republic was sticking to the nuclear freeze to which it agreed under the deal with world powers.
"As of today, measures agreed under the Joint Plan of Action are being implemented as planned," Amano said, according to Reuters. He was referring to the November 24 agreement struck in Geneva between Iran and the United States, Germany, France, Russia, China and Britain.
Under the agreement, Iran committed to limit its uranium enrichment to five percent, halting production of 20 percent-enriched uranium. In return, the European Union and the United States have eased crippling economic sanctions on Iran.
In return, Iran is gradually winning access to $4.2 billion of its oil revenues frozen abroad and some other sanctions relief. The funds will be paid out in eight transfers on a schedule that started with a $550 million payment by Japan on February 1.
The parties hope to create a lasting accord out of the interim deal. A recent meeting in Vienna was described as "constructive and useful."
Separately, the IAEA is investigating suspicions - largely believed to be based on intelligence provided by Western states and Israel - that Iran has researched how to construct an atomic bomb, a charge Tehran denies.
Amano made clear his determination that those allegations - alleged experimentation and tests to develop the expertise needed to turn fissile material into a functioning atomic bomb - must be cleared up.
"The measures implemented by Iran, and the further commitments it has undertaken, represent a positive step forward, but much remains to be done to resolve all outstanding issues," he said, according to Reuters.
Even after the interim deal was reached, Iran has consistently said that it will not stop its nuclear program, which it claims is for peaceful purposes.
Last week, Iran's Foreign Minister said that his country is willing to address international concerns about its atomic activities but will keep its nuclear program "intact" and not close it down.
"I can tell you that Iran's nuclear program will remain intact. We will not close any program," said the Foreign Minister, Mohammad Javad Zarif.
Iran's President Hassan Rouhani declared on Sunday that despite "thousands of hours" of inspection, the IAEA has found no evidence of military objectives in Iran's nuclear drive.
Western powers "all know that nuclear science in Iran follows a peaceful path", Rouhani said in a speech broadcast on state television.
"The agency has conducted thousands of hours of inspection, and announced it has not found any diversion from the peaceful use (of nuclear technology) to military purposes," he added.
The remarks come a day after Rouhani claimed that Iran has decided not to develop nuclear weapons out of principle, not only because it is prevented so by treaties.
Speaking to Defense Ministry officials, Rouhani said that if Iran wanted weapons of mass destruction, it would be easier for it to make chemical or biological weapons.
As proof of his claims, the Iranian president cited a fatwa (religious decree) issued by Iran's Supreme Leader Ayatollah Ali Khamenei which bans the production and use of nuclear weapons.