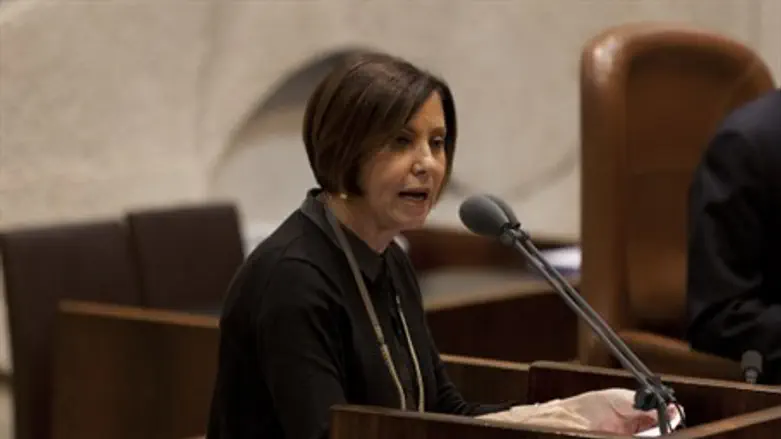 MK Zehava Galon
Flash 90
Palestinian Authority (PA) Chairman Mahmoud Abbas met with Meretz Chairwoman Zehava Galon Monday to discuss the ongoing "peace talks" between Israel and the PA. 
Muhammad Al-Madani, Fatah Central Committee member and Head of the Palestinian Committee for Interaction with Israeli Society, noted during a press conference that the meeting covered the ongoing negotiations between Israel and the PA and concerns that talks will fail.
Abbas and Galon resolved to work together to form a peace pact between the two countries, according to Madani, despite the threat posed by "Israeli extremists." The Fatah official added that hopes are high that the intervention of US President Barack Obama, who is meeting with Prime Minister Binyamin Netanyahu Monday and will meet with Abbas on March 17, will lead to peace.
Madani stressed that if the intervention fails, Israeli politicians will be called upon to overcome the obstacles presented by "Israeli extremism" and Israelis will have to elect "pro-peace" parties to the Knesset. 
"The Palestinian side has done everything in its power to bring about a peace agreement," Madani claimed. "It is now Israel's turn to fulfill its obligations." 
"There is intervention from the US and the international community here, so why should the PA concede more than it already is?" he continued. "The PA will not give up on its national principles, no matter what pressures are placed upon it." 
Official PA media reported that Galon declared Meretz's unequivocal support for talks and reaching a peace agreement between the two countries. She added that Abbas, for his part, has declared that the PA is working to overcome "obstacles" like the disagreements on Jerusalem, refugees and water rights,and that the PA does not insist that the framework agreement take the form of a written accord.  
Few details have been made public of Kerry's proposed framework, though Thomas Friedman of the New York Timespublished some alleged details of the plan, which, he said, will call for a phased Israeli withdrawal from Judea and Samaria based on the 1949 armistice lines, with "unprecedented" security arrangements in the strategic Jordan Valley.
The Israeli withdrawal will not include abandonment of certain settlement blocs, but Israel will compensate the Arab side for this with other Israeli territory.
US Ambassador to Israel, Dan Shapiro, recently declared that the PA will be obligated to recognize Israel as a Jewish state under the framework agreement, in accordance with a long-standing demand by Prime Minister Binyamin Netanyahu.
The PA has already formally refused to recognize Israel as a Jewish state, stating that "the Arab states will never recognize a Jewish state." Nevertheless, a senior PLO official was quoted as saying last month that despite Abbas's earlier refusal to recognize Israel, he was now prepared to do so.