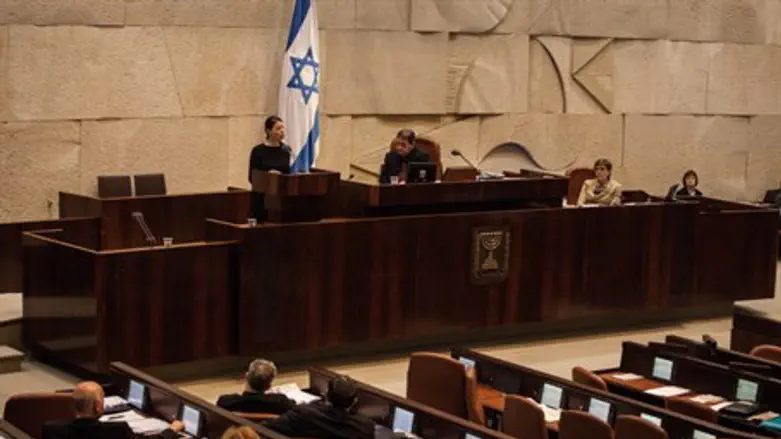 The Knesset (file)
Flash 90
The Knesset's Constitution, Law and Justice Committee on Monday approved in a second and third reading two proposals to change Israel's system of government. A key change is the raising of the threshold for Knesset elections from 2% to 3.25% of all votes cast in order to enable a party to serve in the Knesset.
The six MKs expressing reservations and voting against the bill included MKs Avraham Michaeli (Shas), Uri Maklev (United Torah Judaism), Moshe Mizrachi (Labor), Hilik Bar (Labor), Ibrahim Sarsour (Raam-Taal), and Jamal Zahalka (Balad).
Seven MKs opposed the reservations and supported the bill: Chairman of the Committee David Rotem (Yisrael Beytenu), MKs Ronen Hoffman (Yesh Atid), Karin Elharar (Yesh Atid), Shuli Moallem (Jewish Home), Urit Struk (Jewish Home), Meir Sheetrit (Hatnua), and Yariv Levin (Likud).
The bill, which proposes a change to the Knesset's Basic Law, raises the threshold parties must reach in order to make it into the Knesset. Last March, Likud, Yesh Atid and Jewish Home made the issue a priority when forming a coalition government; at the time they agreed to raise the threshold to 4%.
In the last elections nearly a quarter million voters selected parties that did not pass the 2% threshold, which evidently was part of the motivation behind the election reform that is seen as harming the chances of smaller parties.
Additionally, the bill would limit the number of ministers and deputy ministers in the government, cancel the posts of ministerial aides without a file, change the voting process for a call of no-confidence in the government. It also addresses government work lacking an approved budget, and the time given to a new government to pass the budget.
A second bill which passed its second and third readings dealt with the funding of parties, as well as the cancellation of the possibility for seven MKs to break off and form their own party. Additionally the publication of government results during the period when the budget is decided was also debated.
In the middle of the reservations MK Struk left the debate, and stopped voting with the coalition. As a result some of the reservations weren't received, only because there was not a supporting majority, as the vote was left six versus six.
A repeat vote on the bills is to be held later Monday, as per MK Maklev's request.