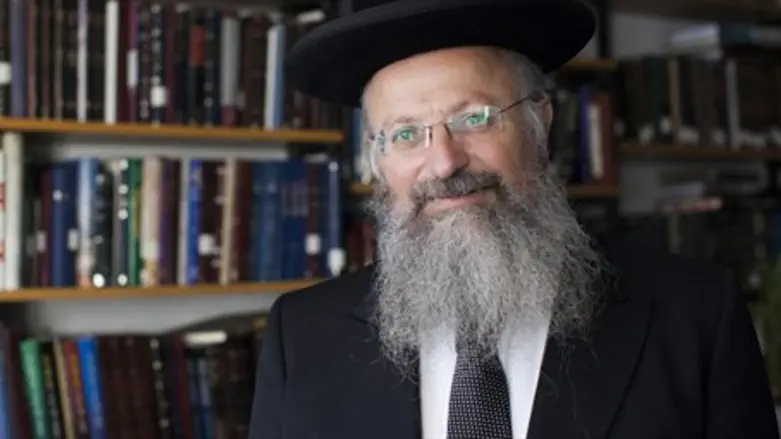 Rabbi Shmuel Eliyahu
Flash 90
The Association of Community Rabbis, a rabbinic leadership group headed by Chief Rabbi of Tzfat, Rabbi Shmuel Eliyahu, canceled plans to attend the "million man march" Sunday afternoon in light of harsh comments directed from a hareidi newspaper against Religious Zionist leader Rabbi Haim Druckman. However, Rabbi Eliyahu himself did attend the demonstration.
Yated Ne'eman, a mainstream hareidi newspaper, published inciting comments against the Rabbi Sunday morning ahead of the rally, calling him and other leaders "exploiters of the Holy Torah." In response, the rabbinic association has withdrawn its participation in the march until the paper apologizes to Rabbi Druckman. 
Rabbi Amichai Eliyahu, CEO of the association, noted that the withdrawal is in the name of Torah values.
"We were going to attend the rally in order to protest an insult to Torah," the Rabbi noted. "However, we may not disgrace the name or honor of Torah scholars [in the process]. Rabbi Druckman, Shlita, is one of Israel's leading rabbinic figures and Yated Ne'eman must respect that."
"The same mouths who forbid [joining the IDF for Torah's sake] cannot permit [slandering a rabbi for Torah's sake] - honoring the Torah is honoring, first or foremost, Torah scholars," Rabbi Eliyahu added. 
"We will not ignore the debasement of Torah scholars," he continued. "We will not participate in the rally until Yated Ne'eman apologizes to Rabbi Druckman." 
Rabbi Eliyahu's organization is not the first to back out of the rally over concerns about disunity. Earlier Sunday, Rabbi Yehoshua Shapira, the rabbi of the Ramat Gan yeshiva, slammed the hareidi paper for publishing the comments about Rabbi Druckman and also retracted his yeshiva's attendance in response.