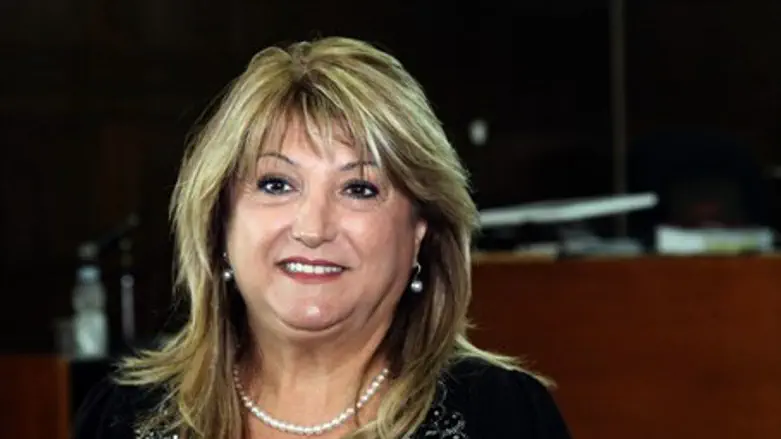 Shula Zaken
Flash 90
Shula Zaken, the close aide of former Prime Minister Ehud Olmert, is edging closer to signing a plea bargain with the prosecution, Channel 10 News reported on Friday.
According to the report, progress was made Friday in the negotiations between Zaken's attorneys and the prosecution.
If a plea bargain is signed, Zaken is expected to reveal everything she knows about Olmert's part in the Holyland corruption case and in exchange will be given a lesser punishment.
Channel 10 reported that in the first stage, Zaken may provide a testimony against Olmert to the police. This could happen as early as next week.
The talks between the sides had hit a snag when Zaken refused to accept a prison sentence as part of the deal and insisted on being sentenced to community service only. She has since changed her mind and is no longer opposed to a reduced prison sentence, the report said.
After Zaken testifies to the police, the prosecution will look into whether her testimony can be used in court, and will then decide whether to go ahead with the plea bargain.
Zaken is long thought to have known much more about Olmert than she was willing to reveal, and has remained loyal to her former boss through both the Talansky affair and the Rishon Tours affair, in which ultimately she was punished, while Olmert was found not guilty.
Lately, however, she has changed her attitude towards Olmert, after the former Prime Minister testified against her. On Tuesday it was reported that Zaken underwent a "hatarat nedarim" ceremony in synagogue in which her vow to her father that she would not testify against Olmert was rendered null and void.
Zaken had reportedly promised her father on his deathbed that she would not testify against Olmert, whom her father had greatly admired.
Maariv/NRGreported that Zaken also criticized Olmert at a recent event, saying, "You sold me out," and "You're calling me corrupt? Everything I did, I learned from you."
The question that remains to be seen is whether the judge in the Holyland case, David Rosen, will agree to hear another testimony from Zaken. She has already testified twice in this case and has provided the court with two different accounts.
At the same time, Channel 10 reported, the prosecution understands that Zaken is a "gold mine" and would work hard towards ensuring her voice is heard.
(Arutz Sheva's North American Desk is keeping you updated until the start of Shabbat in New York. The time posted automatically on all Arutz Sheva articles, however, is Israeli time.)