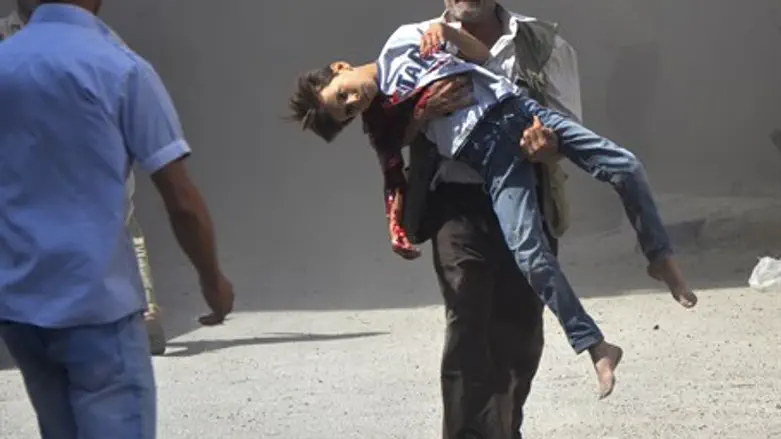 Syrian man carries wounded boy
Reuters
As Syria continues to plunge deeper into a bloody civil war, United Nations (UN) Secretary General Ban Ki-Moon assessed the world's reaction to the internecine slaughter as a "shameful indictment."
"Our collective failure to prevent atrocities in Syria over the past three years is a shameful indictment of the international community," remarked Ban on Thursday at an event marking 20 years since the Rwanda genocide of 1994.
While the ethnically-motivated Rwanda killings left 800,000 dead, over 140,000 have already been killed in Syria's war, now in its third year. The crisis is also anticipated to create 4 million refugees by the end of the year, making Syrians the largest refugee population in the world.
Also on Thursday, the United States released its 2013 Human Rights report. Unsurprisingly, Syria topped the list of offenders.
The worst violation of 2013 occurred last August according to the report, when the Syrian army allegedly launched a lethal sarin gas attack that left roughly 1,429 civilians dead, 426 of them children, reports Al Arabiya.
"It is one of many horrors in a civil war filled with countless crimes against humanity, from the torture and murder of prisoners to the targeting of civilians with barrel bombs and Scud missiles, which has claimed more than 100,000 live," reads the report.
"The tragedy that has befallen the Syrian people stands apart in its scope and human cost," summarized the document.
According to the American report, "more than one third of the world's population still lives under authoritarian rule." That number included Egypt, which came in for criticism over "the removal of an elected civilian government and excessive use of force by security forces, including unlawful killings and torture."
The reference is to the deposal of ousted President Mohammed Morsi last July; Morsi is a member of the Islamist Muslim Brotherhood, which has been charged with using violence and come in for a government crackdown.
As for Syria, an attempt to find a political solution in the Geneva II talks ended in failure on February 15, as talks broke off without a new round being set.