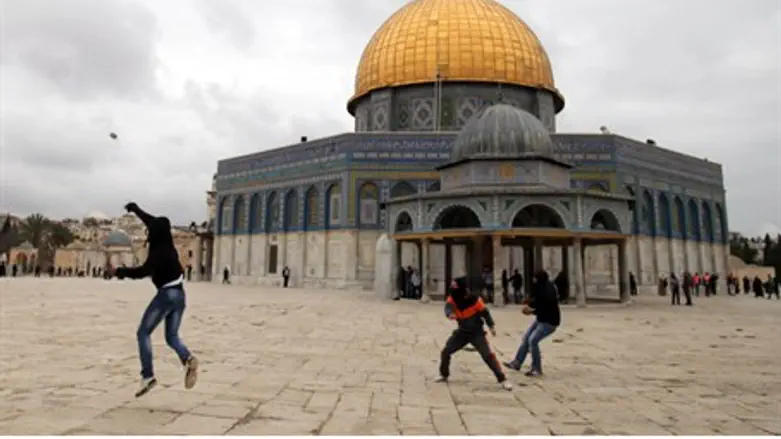 Rioters pelt police with stones on Temple Mou
Flash 90
A senior security official delivered his opinion in court on Thursday, in which he warned of attempts by the terror organization Hamas to "inflame" the Temple Mount, and in doing so cause chaos throughout Judea and Samaria.
According to the senior official's analysis, published in Channel 10, Shabak (Internal Security) are identifying attempts by Hamas to bring Muslim activists to the Temple Mount and have them stir up confrontations with Israeli security forces.
"A serious threat is presented by Hamas activity to inflame the Temple Mount (in protests, attacks on the Mount and violent clashes by a mob enlisted by the organization)," warns the document. "These activities are meant to escalate the security situation in the West Bank."
Similarly on Tuesday morning clashes broke out on the site as Muslim rioters threw stones and firecrackers at police when they opened the Rambam Gate, the only entrance for Jewish visitors to the holiest site in Judaism. As a result  two police were injured, and Jews were reportedly banned from the Mount.
The attack came the day of an historic Knesset debate on Jewish access and Israeli sovereignty on the Temple Mount, where Jews are often forbidden, harassed and arrested.
That debate has led to "concern" about Jewish demands for rights on their holiest site among senior officials in Egypt, the Arab League, and Jordan, where MPs called to end the peace treaty with Israel.