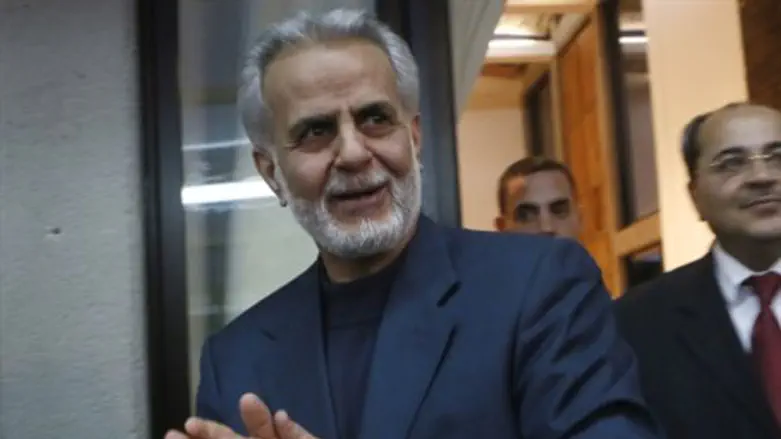 Ibrahim Sarsour
Flash 90
Arab MK Ibrahim Sarsour, Chairman of the Raam-Taal faction, published an announcement to the media on Tuesday, in which he reported on his meetings with jailed terrorists. Sarsour termed the terrorists "political prisoners."
The "political prisoners" Sarsour met included Dr. Mahmoud al-Rumhi and Malek Behirat, as well as Ibrahim Biadasa and Zaher Jabarin. Sarsour said the visit was meant to advance the terrorists' release, especially those who were members of the Palestinian Authority (PA) parliament who were "kidnapped" by Israel. 
He also called for the release of female prisoners, foremost among them Lina al-Jarbouni, as well as sick and aged prisoners. 
A brief investigation reveals Sarsour's "political prisoners" all feature unsavory pasts steeped in terror involvement.
Rumhi was a senior figure in the Hamas terror organization, an MP in the PA parliament on behalf of Hamas, and a former minister.
As for Biadasa, he was arrested in 1986 for being part of the terror group Popular Front for the Liberation of Palestine (PFLP), in addition to charges of possession of weapons and explosives without permission, as well as firing a weapon towards people. He was sentenced to 45 years in jail.
Behirat was similarly arrested for possession of weapons, as well as planning to murder two soldiers next to a kindergarten in the Armon Hanatziv neighborhood of Jerusalem.
Jabarin was a senior figure in Hamas, arrested in 1993 and convicted for the murder of IDF soldier Gitai Avisar.
Not to be outdone by the men, Jarbouni was a member of the terror organization Islamic Jihad, where she helped senior members of the group carry out terror attacks against Israeli citizens.
Among her various activities as a terrorist, she provided Israeli identity cards for the other terrorists, rented an apartment for them, managed communications in planning an attack, gave covering fire to the murderers, and provided access to bank accounts.
Not Sarsour's first time backing terror
This is not the first time Sarsour has seen nothing wrong in being a member of Israel's Knesset while supporting those seeking to destroy Israel.
Back in 2012, the Arab MK similarly met with jailed terrorists including Abbas Al-Sayed, a senior Hamas leader who planned numerous attacks including a 2002 attack on the Park Hotel during Passover that killed 30 Jews.
Sarsour has also been outspoken in his anti-Semitism and historical revisionism. Last October, he made the wild claim that the Biblical patriarchs of the Jewish nation were Muslim, despite the fact that Islam was created in the 7th century CE, over 2,000 years after they lived.