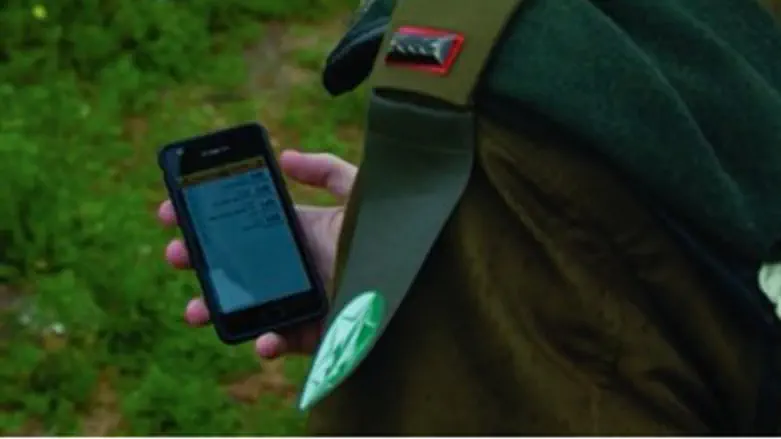 Soldier using smartphone (illustration)
IDF Spokesperson's Office
The IDF Information Security Department issued tough guidelines Wednesday night prohibiting soldiers from using popular messaging application Whatsapp on their smartphones to convey IDF-related information, according to Army Radio. WhatsApp is a cross-platform mobile app which allows users to exchange messages without having to pay telecom charges.
According to the broadcast, the IDF has agonized over whether or not to allow smartphones on base, over concerns about the potential for serious security leaks.
The branch notes that seemingly innocuous chatter over a WhatsApp group can easily reveal enough intelligence information to prove dangerous if it falls into the wrong hands. The Office of the Chief of Staff finalized the new guidelines, which prohibit using the app in any operational context. 
"Out of concern that information revealed in a WhatsApp group could reveal critical information about the IDF and its operations, assessments were carried out to determine the security risks of the situation by the Information Security Department, and new guidelines were issued," the IDF stated. "In accordance with Information Security Department policy, there is a ban on using WhatsApp for operational needs." 
Mishaps with classified information have become more common as technology progresses - especially as smartphones become ubiquitous.
Israeli police busted a teenage drug ring which was using WhatsApp as a sale hub on Monday. Customers included dozens of high school students in grades 10 through 12; the sales were conducted using keywords as a "code" for common recreational drugs. 
Earlier this month, several IAF pilots were reprimanded after they stored sensitive maps and flight plans on their smartphones; two were jailed and another 12 were fined over the incident.