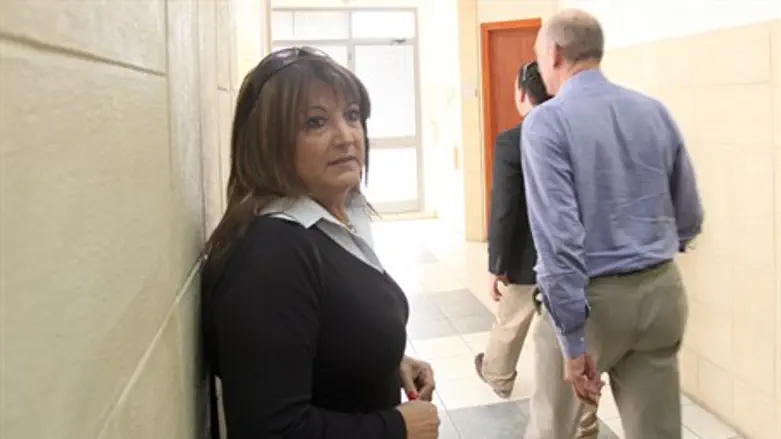 Zaken and Olmert in court building
Israel news photo: Flash 90
Shula Zaken, former director of the Prime Minister's Office under then-Prime Minister Ehud Olmert, was on trial Tuesday in the Holyland corruption scandal.
In a twist that surprised many in the courtroom, Zaken's attorney took the offensive against Olmert, alleging that everything Zaken did was done for his sake.
"She woke up thinking of Olmert and went to sleep thinking of Olmert, with a notebook by the bed to write things down if he called," attorney Ofer Bar-Tal told the court. "Everything she learned, she learned from him; everything she did, she did for him."
Zaken remained loyal to Olmert through two previous corruption trials. She remained silent during the Rishon Tours affair; ultimately she was punished, while Olmert was found not guilty.
She rejected a proposed plea bargain in the Holyland affair, but began to show signs of anger after Olmert testified against her. According to Maariv/nrg, Zaken criticized Olmert at a recent event, saying, "You sold me out," and "You're calling me corrupt? Everything I did, I learned from you."
According to Channel 10, Zaken's change in behavior in court has another explanation as well. For years, Zaken reportedly considered herself bound by a promise made to her late father when he was terminally ill.
She had reportedly told her father on his deathbed that she would not testify against Olmert, who her father greatly admired.
Olmert's recent courtroom attacks on her character reportedly angered Zaken so much that for the first time, she sought a way out of the commitment she had made. She underwent a "hatarat nedarim" ceremony in synagogue in which her vow to her father was rendered null and void – allowing her to testify freely against the former Prime Minister.
Olmert is accused of having taken a bribe of half a million shekels when he served as Mayor of Jerusalem. In exchange, he allegedly granted building approvals to the massive Holyland luxury housing project in the city.