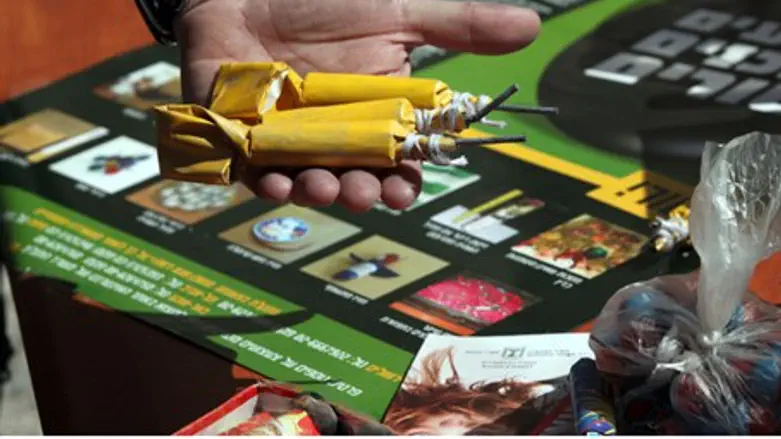 Firecrackers.
Flash90
Incidents with firecrackers pick up in Israel around this time of year, as children across the country set off firecrackers as part of the merriment of the Purim holiday.
To help understand why so many injuries occur, Arutz Sheva spoke to Dr. Ronen Libster, chief of Emergency Services at Ma'ayenei Hayeshua hospital in Bnei Brak. 
"Firecrackers are explosives, for all intents and purposes," Dr. Libster noted Tuesday, "and injuries from them could be very serious. They can cause burns, blindness if detonated near the eyes, or even amputate fingers." 
Dr. Libster added that the more serious injuries from Purim-related firecracker incidents involve blindness and amputated fingers. One particularly severe case the doctor treated involved a twelve-year-old boy who came into the ward with severe burns to his chest and face, after a firecracker exploded prematurely. 
"We took care of it as soon and as quickly as we could, but we are talking about a case where he will have scars for the rest of his life," Dr. Libster recounted. He noted that the treatments can often be more painful than the injuries themselves.
And, unfortunately, the trend of Purim-related injuries has already begun anew this year; a boy from the Binyamin region lost an eye on Saturday night from another firecracker-related incident. 
Firecrackers are illegal in Israel, Dr. Libster noted - but that still has not prevented them from being sold on the black market ahead of the holiday. Illegal firework sales peak at this time of year and add to the danger, he stressed, adding that the use of firecrackers during the holiday has become an unfortunate trend. 
"History has proven that our war on illegal firecracker use is just not enough," Dr. Libster concluded, comparing the campaign against them to the Sisyphean struggle against smoking.