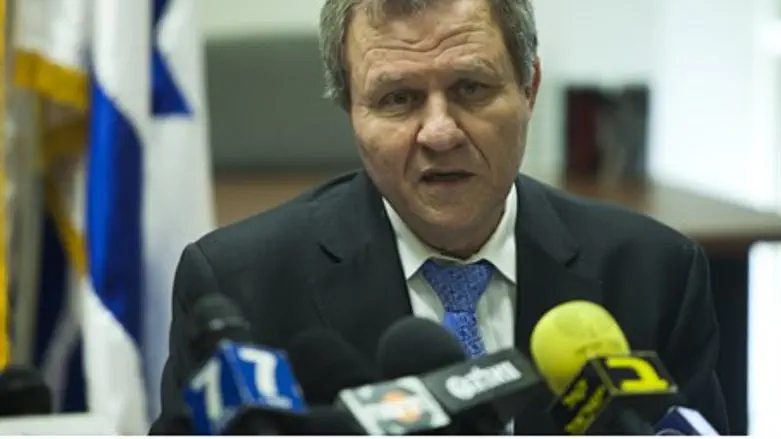 Meir Sheetrit announcing his presidency campa
Flash90
Israel may see yet another presidential candidate in the next elections, Walla! reports Monday: MK Meir Sheetrit (HaTnua). 
"I checked with several officials recently, received a positive response, and so decided to announce my candidacy for the presidential elections," Sheetrit stated at the HaTnua faction meeting Monday afternoon. 
Hatnua Chairman Tzipi Livni welcomed the move. 
"The presidential institution needs a worthy person for the job; Meir meets all the necessary criteria," Livni stated. "Everyone in HaTnua supports him." 
Sheetrit may not appear on the ballot yet, however, as he still needs to gather the necessary signatures by MKs and government officials to enter the presidential race. Estimates indicate that the likelihood of him getting elected is low. 
The number of presidential candidates looking to replace Shimon Peres is growing. Currently, candidates include Reuven Rivlin (Likud), former Knesset Speaker Dalia Itzik (Labor/Kadima), and MK Binyamin Ben-Eliezer (Labor).
Two other candidates, Nobel Laureate Dan Shechtman and former Supreme Court Justice Dalia Dorner, have stated that the presidency is apolitical and have not yet signed up to a particular party. 
The public, meanwhile, believes that Rivlin is the most suitable candidate for president, though it is the Knesset and not the public that will decide.