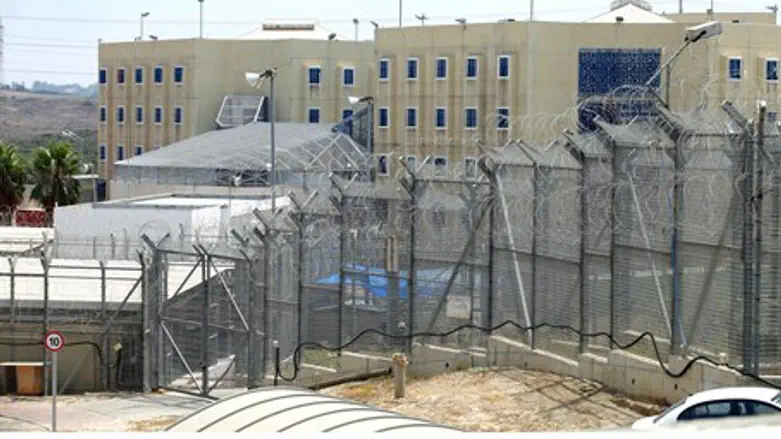 Hadarim Prison
Flash 90
A prisoner at Rimonim Prison in central Israel shot and wounded three people, all of them apparently guards, early Sunday afternoon. According to ZAKA emergency services, the shooter has been shot dead by police special forces.
The prisoner has been identified as Samuel Sheinbein, an American-Israeli convicted murderer serving his sentence in Israel. On September 16, 1997, Sheinbein and Aaron Benjamin Needle, a former classmate at the Charles E. Smith Jewish Day School in Aspen Hill, Maryland, killed Alfredo Enrique Tello, Jr.. They then dismembered and burned his body. 
Sheinbein escaped extradition by claiming Israeli citizenship through his father. He pleaded guilty to killing Tello in an Israeli court in 1999. He is serving a 24-year sentence in Israel but could have faced life in prison if tried in the United States. 
One guard is reportedly in critical condition. A second suffered moderate wounds and one other was lightly wounded. They were evacuated to hospital.
Shortly after the attack, the Israel Prisons Service (IPS) said that the prisoner was still armed and was holing up inside the prison. He was reportedly not holding hostages. 
The most seriously wounded man is reportedly aged about 30, and was shot in the "upper body" – a description that can refer to the chest, neck or head. He is unconscious and being artificially respirated. Another victim, aged about 40, is conscious. He, too, was shot in the upper body. The third victim was shot in his extremities. One of the victims may be an inmate and the others are reportedly guards.
IPS said that the shooter was 37.
Large police forces, Magen David Adom ambulances and other rescue forces have been sent to the location.
Rimonim is a medium-security prison.
MK Adi Kol (Yesh Atid) reacted to the event by blaming the IPS. "This is a serious failure of the IPS, which serves as an additional warning light regarding the state's recklessness regarding what goes on inside Israel's prisons.
"A committee of inquiry must be set up urgently to look into the regulations, the poor prison conditions, and the lack of external supervision of what goes on inside the jails. All that, along with the suffering of the prisoners who do not have adequate rehabilitation programs, constitute a barrel of explosives waiting to go off.
"The rights of prisoners and guards are violated time after time," she said, "and it is time to put an end to the mess in the IPS, and to the public's ignoring of what goes on in the margins of society, in Israel's prisons."
More to follow.