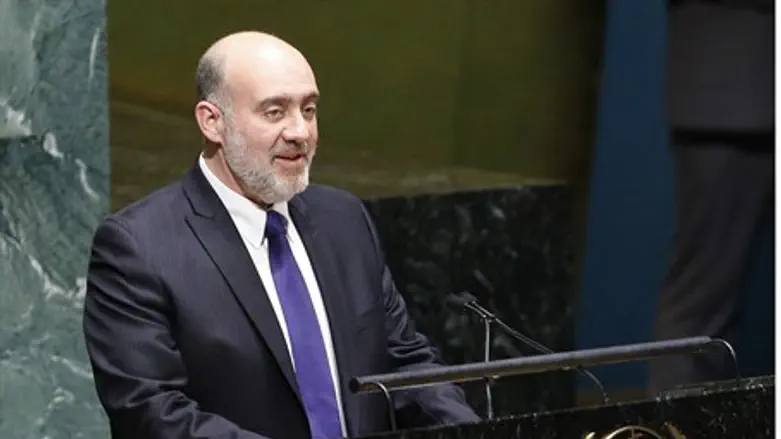 Ron Prosor
Reuters
Israel's ambassador to the United Nations, Ron Prosor, urged the global body on Wednesday to lift the mask off Iran, NRG/Maariv reports.
Speaking to the UN Security Council, Prosor launched a scathing attack against Iran and its violations of human rights.
"In what country in the Middle East would you like to be judged?" he asked the 15-member body during a debate on the rule of law. "The answer is categorical - Israel - which has an independent, ethical and fair legal system."
"The Iranian regime may be displaying a smiling face to the West but behind the mask this is a murderous and cruel regime," continued Prosor.
"While the world hangs hopes on Iran, the Iranians hang civilians in the town square. Iranian Foreign Minister Mohammad Zarif talks with Western representatives in Vienna, while his regime executes innocent people, stones women and discriminates against minorities. The Iranians are pretending to be moderate while inflaming and encouraging the continued bloodshed in Syria," he added.
"In an area in which citizens are systematically persecuted and oppressed, Israel is a beacon of democracy in a sea of ​​dictatorships and human rights violators. The Arab countries would greatly benefit if they learn from Israel how the rule of law is essential to ensure human rights, freedoms and opportunities for all people," concluded the Israeli envoy.
A recent report by Amnesty International found that execution orders in the Islamic Republic have risen dramatically since the beginning of 2014.
That report was released three weeks into January, and already by then more than 40 orders had been issued.
United Nations officials condemned the recent surge in executions in Iran, saying they denounced "the inherently cruel, inhuman and degrading nature of the death penalty."
In Iran, hangings usually take place in public squares, with the condemned often hanged by cranes.
Iranian opposition and human rights activists have previously pointed to the ongoing, and even escalated rate of executions under President Hassan Rouhani as proof that attempts to portray the regime as more "moderate" following his election are false.
Prosor's comments came as talks between Iran and the P5+1 group of world powers on a long-term nuclear deal resumed in Vienna.