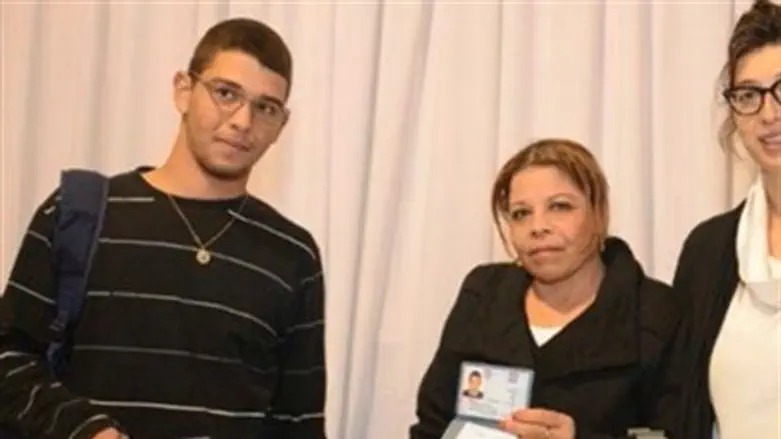 Rabin (L) and his mother, with ID cards
Orly Harari
Headlines in Israel Wednesday were dominated by Yitzhak Rabin - not the assassinated Prime Minister, but a brave Arab teenager of the same name. 
18-year-old Rabin - whose full name is Yitzhak Rabin Ramsy - was born in Jordan to an Arab Muslim family, two months after Israeli Prime Minister Yitzhak Rabin's assassination. His parents decided to name him after the slain Israeli leader as a gesture of gratitude for his role in signing a peace treaty with Jordan in 1994.
His parents' decision made headlines across the globe and drew ire from Jordanian officials, despite the peace treaty between Jordan and Israel. After suffering abuse at the hands of locals - who did not share his kind sentiments towards the Jewish state - baby Yitzhak and his mother were allowed to emigrate to Israel, for humanitarian reasons.
Rabin stated in November that he "feels completely Jewish," and that his one wish was to become an officer in the IDF. However, he had never received a draft notice due to his citizenship status, with the Ministry of Interior had insisted was temporary due to the nature of his immigration. 
On Wednesday, after years of struggling with the Ministry, that wish was finally granted by Interior Minister Gidon Sa'ar. Sa'ar traveled to Eilat to present Rabin with his Israeli identity card - and citizenship - in a special ceremony.  
"I went to the Interior Ministry, the military and the media," Rabin's attorney, Naomi Gonen, told the press after the event. "I was sure it would be easier, but then I found out that things work very slowly to move through the system. It took a few months, but the main thing is that in the end we succeeded - mainly thanks to the media, who supported the cause." 
"The struggle of Yitzhak Rabin ends now that he has successfully obtained an identity card, and the gates of the country are open for him," the attorney continued. "Were it not for the positive response of the media in this fight to get him his citizenship, we would never have succeeded."