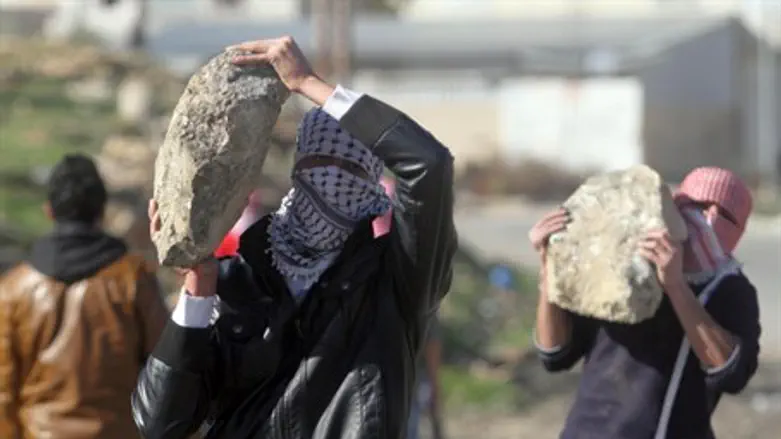 Arab rioters with rocks (illustrative)
Flash90
Palestinian Arab teenagers hurled rocks at an Israeli car just outside the Samaria community of Eli Wednesday afternoon. While the victims of the attack are shaken, no one was hurt. 
"We were in a full car - two women and several children - traveling from Jerusalem to Elon Moreh," Alona, the driver, recounted to Arutz Sheva. "Right after we passed Eli we heard a loud 'boom' that shook the car. We saw glass shattered in our car and realized that the Palestinian Arab teenagers we saw earlier had thrown stones at us as we passed." 
It took a few moments - but, thankfully, the victims of the attack managed to find help. 
"We found a group of IDF soldiers along Route 60 and told them what had happened," Alona said. She emphasized that no one had been hurt in the incident. 
Rock attacks against Jewish Israelis have become more and more common in Israel over the past month, in an incitement campaign the Shin Bet recently linked to the ongoing peace talks between Israel and the Palestinian Authority. 
Earlier this month, Palestinian Arab teenagers hurled rocks at a group of yeshiva students visiting the tomb of a Talmudic sage in the Lower Galilee. The attack was premeditated, students claim, as the youths descended upon the students' tour bus wearing masks, and a car was seen following the bus after it finally managed to escape. Students were forced to hide under the seats to avoid being hurt by the projectiles. 
The community of Beit-El was also thrust back into the spotlight on Tuesday over rock attacks, after it was alleged that whilst police take a hard line against local Jewish activists, the perpetrators of a recent barrage of rock-throwing incidents are still at large. 
The driver's broken windshield
Alona