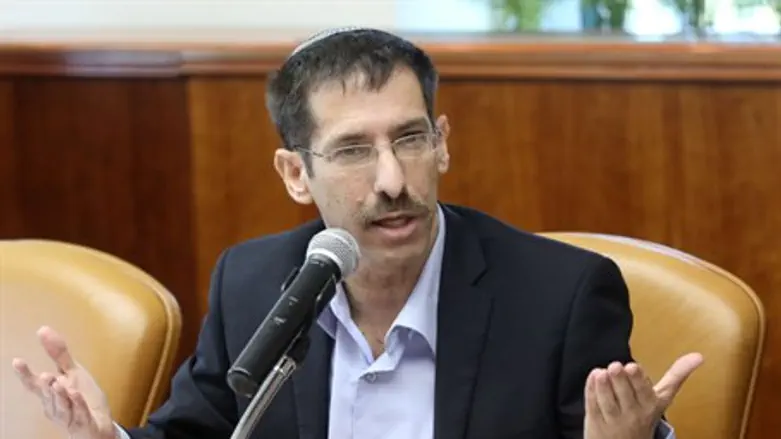 Uri Orbach
Israel news photo: Flash 90
Pensioner Affairs Minister Uri Orbach (Jewish Home) expressed shock Tuesday at the hareidi parties in the Knesset over an alleged incitement campaign against religious Zionism in general and the Jewish Home in particular. 
"I am surprised to see the gap between Jewish Home's efforts to save them [the hareidi community] from the 'draft edict,' as they call it, and the outpouring of hate they respond with in the Knesset and in their newspapers," Orbach lamented.
Orbach may have been referring to Jewish Home's efforts to secure economic sanctions - rather than criminal sanctions - against hareidi draft-dodgers. Proponents of the move say economic sanctions could potentially prevent hareidi men from being forced to recruit in the IDF against their will, while also providing more incentives for enlistment in the community at large.
But earlier Tuesday, the Shaked Committee for the Equal Burden of Service draft bill announced that criminal sanctions would be enacted for draft-dodgers. The catch: a six-month waiting period would be enacted in the event that the hareidi community does not adhere to the draft quota, potentially allowing alternative options to be put back on the government's agenda. 
The MK stressed that Jewish Home "is not looking for gratitude" from the hareidi sector, per se, "but nearly our entire faction rose up to try and prevent any single hareidi man from, G-d forbid, being drafted into the terrible army," he sarcastically noted. "Our faction was willing to dilute those 'criminal' sanctions until the Messiah comes, and to take into account the hareidi community's needs as much as possible." 
Orbach lamented that the repayment that the Jewish Home, and the religious Zionist community, have received for their trouble, has been to be lumped together with the hareidi community, as the latter are being sanctioned by the State for refusing to heed the draft order. 
"We have paid the price now that the Hesder yeshivas are facing cuts, because [MK Eliezer] Stern and the secular factions are apparently despairing on the hareidi draft issue," the MK fired.
"In all our efforts to appease the hareidi community and show that we care about the Torah learning of the hareidi world (even those who don't actually sit and learn), we seem to have forgotten that the ideal is a combination of army learning and Torah study," he added. "That a man has to provide for his family and also learn Torah. Yes, nonsense like that." 
"They call us the 'Home of Gentiles', they spit dirt at us about our Rabbis, and we stay silent.,'" the MK continued, in a Facebook post. "It is difficult for us to fight with them, they are really unfortunate, and maybe one day they will even agree with us on the issue of the Land of Israel (ha!)." 
"Yes, sometimes politics demands patience and forbearance," he reflected. "But sometimes we also exaggerate the issues a little."