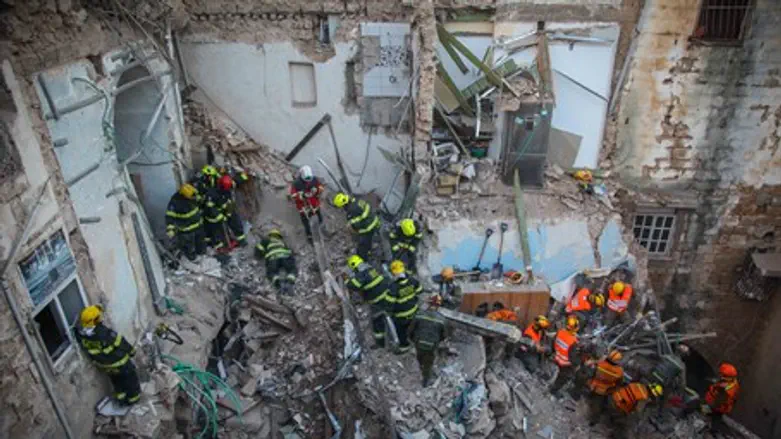 Rescue workers search for survivors at the si
Flash 90
The names of five people killed in this morning's fatal gas explosion in the northern Israeli city of Akko have been released for publication.
Officials say 43-year-old Muhammed Bader and his 39-year-old wife Hanan were the first bodies to be recovered from the rubble. Shortly afterwards the bodies of another couple, Ra'eek (40) and Najah (35) Sarhan were identified, along with their eight-year-old son Hamed.
Eleven other people were injured in the explosion, which was caused by a gas canister explosion, police said. The explosion, which occurred at about 4:00 a.m., caused one side of the apartment building to collapse, trapping an unknown number of people under debris. Rescue workers are in touch with several people still trapped beneath the rubble, but said that there were others whose whereabouts were unknown.
"It could take a long time to remove them," a rescue official said. 
The circumstances surrounding the blast remain unclear. At first it appeared to be a tragic accident, but police are now saying that they are investigating evidence of possible foul-play.
Speaking to reporters, a police official said "we know there was a cellphone antenna on the building, and this had caused a bitter dispute in the neighborhood. It's possible that this explosion was caused on purpose, with someone setting the gas canister to explode," the official added. Another official also said that police were investigating the possibility that the explosion was due to a fight between neighbors.
Akko (Acre)
Google Maps
In a similar incident last month, a couple and their two-year-old baby were tragically killed in a gas tank explosion in Jerusalem. The blast occurred on the third floor of a four story building in the city's Gilo neighborhood.
A similar incident in Netanya killed four people and wounded 88 in June of 2011.