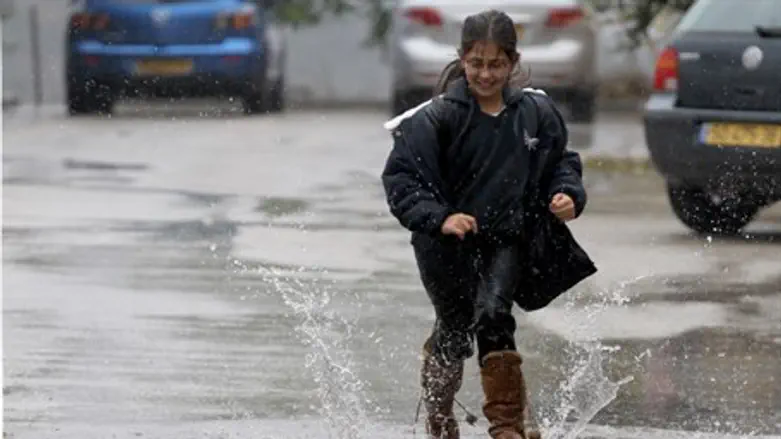 Girl plays in rain (illustrative)
Israel news photo: Flash 90
Weather forecasters are predicting a quick end to the rainy spell that began in much of the country on Friday evening.
Local rainstorms are expected to continue Sunday, forecasters said, but will grow increasingly lighter throughout the day, ending completely around Sunday evening.
A flood warning around rivers in southern and eastern Israel remains in effect. Sunday is expected to be cold for the season.
By Monday, the rainy weather is expected to have passed. Skies will be partially cloudy, with a slight rise in temperatures.
Tuesday and Wednesday are expected to be sunny days. Forecasters say temperatures will continue to rise on both days.
Sources in the Water Authority expressed concern. They noted that the brief spell of rain is unlikely to have a significant impact on Israel's water resources, which have been suffering from the unusually dry weather that followed December's snowstorm.
"Such extreme dry weather at this time of year is unheard of," sources said, adding, "Remember that during the last rainy season, too, in 2012-2013, [rain] ended early and from the end of January no rain fell at all."
Last year's rainy season was the most bountiful in a decade; however, the year was still a tough year for farmers due to the dry late-winter weather.