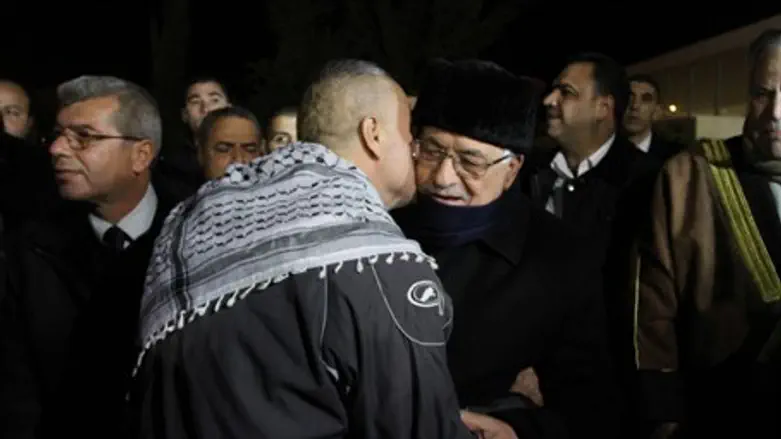 Mahmoud Abbas hugs freed terrorist
Flash 90
The Palestinian Authority (PA) announced last week that it will give an extra $46 million a year to released terrorists. US taxpayer dollars will inevitably go towards funding the reward for terror, as US President Barack Obama has reportedly pledged the PA $440 million in 2014.
PA Minister of Prisoners' Affairs Issa Karake made the announcement last Thursday, saying a new law has been approved which "is concerned with improving conditions for released (prisoners)," and noted the law's "budget...has been estimated at 160 million shekels ($46 million) a year."
The announcement made it clear that the pay raise for terrorist murderers was made possible by donations from the West, according to Palestinian Media Watch. Further, it noted the support would start in April 2014 due to "the large budget deficit and the PA's financial situation."
The PA is in a financial crisis, bogged in debt upwards of $4.2 billion as of last July, and cannot meet its monthly expenses without relying on Western financial aid, meaning the pay raise for terrorists is coming out of the US and Europe's pocket. Western donor states continue to fund the PA, despite its refusal of the demand not to fund terrorists.
Karake, the same minister who announced the pay bonus for terrorists, mocked the West for asking that its funding not go to terrorists last November on official PA TV.
At a ceremony honoring freed terrorists as part of the "gestures" meant to advance peace talks, Karake declared "the Europeans want their money that comes to us to remain clean - not to go to families of those they claim to be 'terrorists.' [They] need to renounce this occupation (Israeli) mentality. These [prisoners] are heroes, self-sacrificing fighters (fedayyeen), and fighters who fought so that we could live in dignity."
He concluding by lauding the terrorists with the words: "we appreciate the people of the revolution and are proud of them."
Last November, Deputy Defense Minister Danny Danon called on the international community to stop funding the PA as long as that money goes to support terrorism. "The world thinks it's funding peace, but the Palestinians are funding terror," argued Danon.
Meanwhile in January, it was revealed that a broadcast on PA TV by a European Union (EU) funded NGO dehumanized Jews as "crows" and "rats," and further called them "foreigners" in Jerusalem, the 3,000 year old Jewish capital.