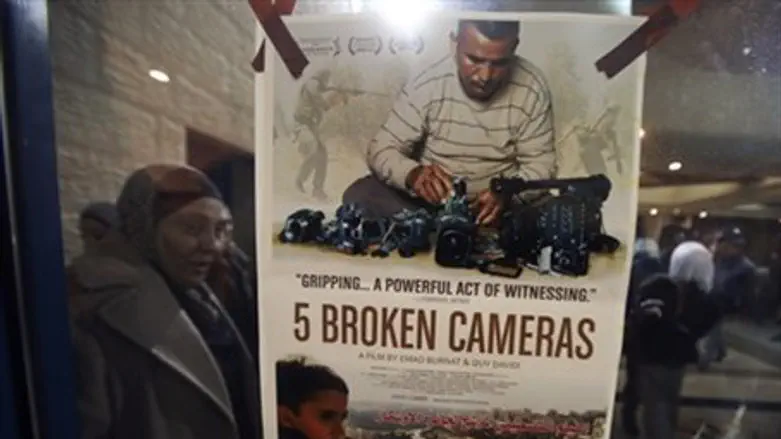 5 Broken Cameras poster
Reuters
The anti-Israel film "Five Broken Cameras" will be made available to teachers who want to screen the movie to their students, the Culture Committee of the Ministry of Education told IDF Radio Thursday. The movie will be made available to any teacher who wants to bring it into his classroom.
The film, which was made by Emad Burnat and Guy Davidi, describes the resistance of the residents of Bil'in for the (security) fence. The film was also nominated at the last Oscars.
The film is based on material photographed by Burnat, who is a Palestinian Arab who resides in Bil'in, between the years 2005-2010. In it he describes the struggle waged by the villagers against the IDF. Some residents claim their land was confiscated for the sake of building the security fence. Protests at Bil'in regularly turn violent, as foreign and Israeli left-wing activists join local Arabs in attacking IDF forces and attempting to damage the fence.
The directors of "Five Broken Cameras" have been accused by members of the public of incitement and slander. An NGO called Consensus filed an official request with the Attorney General asking that directors Guy Davidi and Emad Burnat face charges.
Consensus, which advocates for Israeli soldiers, stepped into the picture after several soldiers whose faces were revealed in the film appealed for help on Facebook. The soldiers expressed frustration over the way they were represented, and concern that the exposure could lead to lawsuits against them in the future.
Deputy Minister of Education MK Avi Vortzman (Jewish Home) spoke up against the Culture Committee's decision to add the anti-Israel movie to the list of movies to be shown in the schools.
"The decision to include the film was made professionally by Culture Committee. However I intend to appeal to the Minister and request that it be re-examined due to the fact that the film has been edited to present a unilateral view under the guise of a being a film documentary, and encourages outspoken incitement against the State of Israel and IDF soldiers who maintain the security fence from international anarchists. I believe a film like this does not deserve to be promoted in the school system," Vortzman stated.