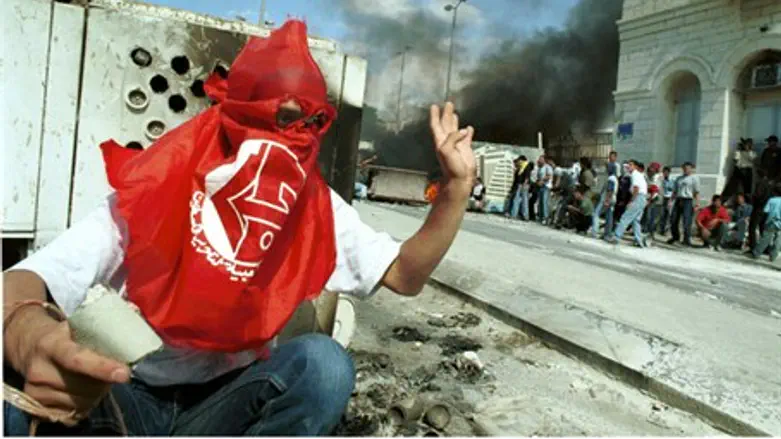 Terror attacks on Kever Rachel (file)
Flash 90
The Interior Committee discussed a bill presented by MK David Azulai (Shas) on Tuesday, which addressed the "continuous harassment of Jews visiting Kever Rachel," the tomb of the Jewish matriarch Rachel from the Torah.
During the course of the discussion, which was moderated by MK Zevulun Kalfa (Jewish Home), Azulai explained he had raised the issue due to the increase in the frequency of terrorist attacks around Kever Rachel.
He noted the 1993 Oslo Accords guaranteed Jews prayer access to the site, adding, "if this is what the agreements look like, we need to be very concerned." Massive Arab mobs frequently hurl explosives at visitors, police and soldiers at the site.
Azulai remarked that the roughly 3,500-year-old tomb has been surrounded by massive security walls, a step made necessary as around 200 terror incidents occurred at the site in 2013, with 119 explosives being thrown in the course of 78 of the incidents.
The figure is lower than earlier estimates that included a spike in attacks during late 2012. Last May, the IDF told the Knesset about 200 firebombs and 90 improvised explosive devices (IEDs) were thrown at Kever Rachel since Operation Pillar of Defense in November, 2012. The number worked out to an average of almost two bombs a day.
"There are no limitations on the IDF in using force," noted an operations officer from the IDF's Central Command at the discussion Tuesday. He added that "there's a downward tendency in the terror incidents," likely referencing the Pillar of Defense time frame.
MK Yisrael Eichler (United Torah Judaism) responded to Azulai's reports, saying he was "shocked by the numbers."
MK Orit Struk (Jewish Home) added, "We need to check how the authorities are responding to this situation and how much those coming to pray are suffering." Tear gas is often fired to disrupt huge Arab riots that at times have put the site under siege; Struk noted Jews coming to pray often are affected by the gas as well.
MK David Tzur (Hatnua) expressed surprise at the number of attacks, and declared, "We have to change the balance of the threat."
The Border Police take "quick and aggressive" action in response to attempted terrorist attacks, according to testimony from Shachar Fireman, manager of the site. He told the committee that on the anniversary of Rachel's passing roughly 100,000 visitors come to the site.
Kalfa suggested holding another discussion on the issue to follow-up in a few months, in order to determine if there is a need for additional measures to prevent the harassment.