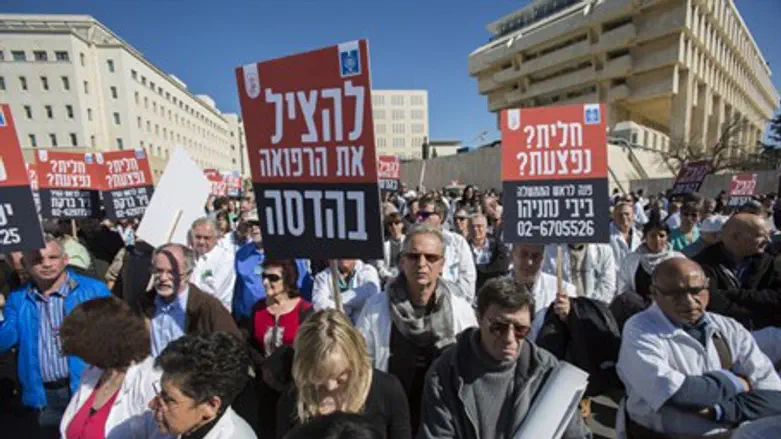 Hadassah workers protest (file)
Flash 90
Frustrated medical staff at Hadassah hospital in Jerusalem are due to present an ultimatum Tuesday morning to the government: to provide insurance for doctors - or else the hospital will be on strike "indefinitely," according to Walla!. 
The ultimatum, which is due to be presented at 10 a.m., takes the ongoing strike at Hadassah Medical Center to a whole new level, after a localized dispute over budget cuts last week mushroomed to a highly publicized protest against the government. 
The new demand addresses issues with the staff's malpractice insurance, which has been effectively cancelled - along with the doctors' contracts - because of the strike. The result has been a bureaucratic nightmare: on the one hand, doctors are in theory completely exposed to malpractice suits, but on the other,  patients will be unable to file them. Israeli Medical Association (IMA) chairman Dr. Leonid Eidelman told Walla! that if the papers are not provided and updated, then doctors will begin leaving the hospitals in droves. 
The Director General of Hadassah, Dr. Avigdor Kaplan, predicted that such a move may not be necessary, however.
"This is just an issue of insurance regulation," he told Israel Army Radio Tuesday morning. "There is a technical problem with the insurance company, which deposited money and needs to process it. Doctors do not have to leave the hospital; this should not intimidate the public. We will settle this and avoid exposing doctors and other employees to lawsuits against them." 
Meanwhile, another solidarity strike will be held Tuesday in hospitals across Israel, with doors open only to emergency services and births.
This is the eighth day of the hospital strike thus far. The ongoing strike at Hadassah Medical Center in Jerusalem has already driven several senior members of both Hadassah Ein Kerem and Hadassah Mount Scopus to quit, fed up over the hospital's inability to compensate for missing wages and frustrated over the tedious negotiations. 
The strike began Tuesday at both Hadassah Ein-Kerem and Hadassah Mount Scopus medical centers, as a backlash against the Finance Ministry for allegedly stalling in negotiations to expand the hospital's budget.
The budget cuts have been hurting patients, according to staff who are reeling after a month on half-pay. As a result, the centers decided to close their doors Tuesday, operating on the schedule normally reserved for Shabbat and holidays.