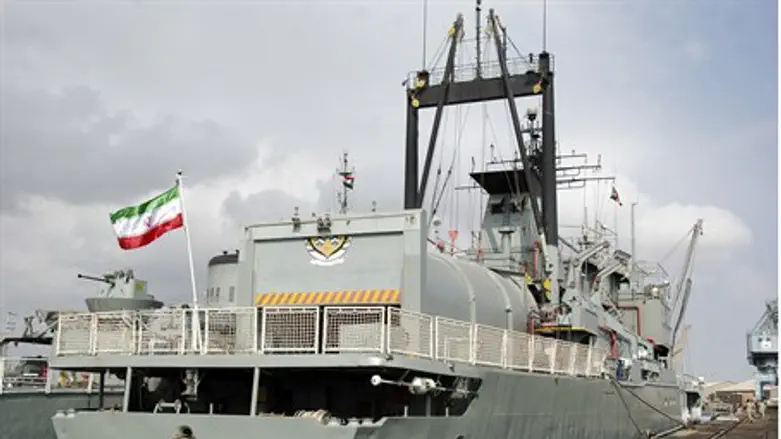 Iranian navy warships (archive)
Reuters
The Pentagon said on Monday it was not concerned by an Iranian announcement that it would send naval vessels toward U.S. maritime borders.
The Pentagon has no information the ships are approaching the Atlantic yet, spokesman Colonel Steve Warren said, according to Reuters.
He added that "to our knowledge, this is an announcement only at this point."
"We are not concerned about their announcement to send ships into the Atlantic. As I said earlier, freedom of the seas applies to every nation," Warren said, according to Reuters.
He said if Iranian ships do head into the Atlantic, "they should not be surprised to find many other navies also sailing in the Atlantic."
The comments come in response to a report Saturday in the semi-official Iranian news agency Fars, which quoted the Commander of Iran's Northern Navy Fleet Admiral as having claimed that "the Iranian Army's naval fleets have already started their voyage towards the Atlantic Ocean via the waters near South Africa."
"Iran's military fleet is approaching the United States' maritime borders, and this move has a message," he claimed.
Fars said the plan was part of "Iran's response to Washington's beefed up naval presence in the Persian Gulf."
Hours after that report, a U.S. defense official cast doubt on any claims that the Iranian ships were approaching U.S. maritime borders.
That same official added, however, that "ships are free to operate in international waters."
Iran has been flexing its muscles lately. On Monday, the regime held a special display of the nation's domestic military industry advances in the last decade, bragging that it has the "biggest army in the region."
The pinnacle of Iranian warfare was presented in the Shihab 1, 2 and 3 missiles, which feature a range of up to 2,000 kilometers (1,243 miles), enabling them to strike Israel. The missiles are fired from subterranean launchers, making them difficult to detect by satellite.
According to the Iranian army, the Shihab missiles can be fired rapidly in response to an attack.
Iran has previously threatened to close the Strait of Hormuz, a strategic waterway leading to the Persian Gulf, in response to American military presence there.
Also on Saturday, Iran's Supreme Leader, Ayatollah Ali Khamenei, verbally attacked the United States, saying Washington had a "controlling and meddlesome" attitude towards the Islamic Republic.