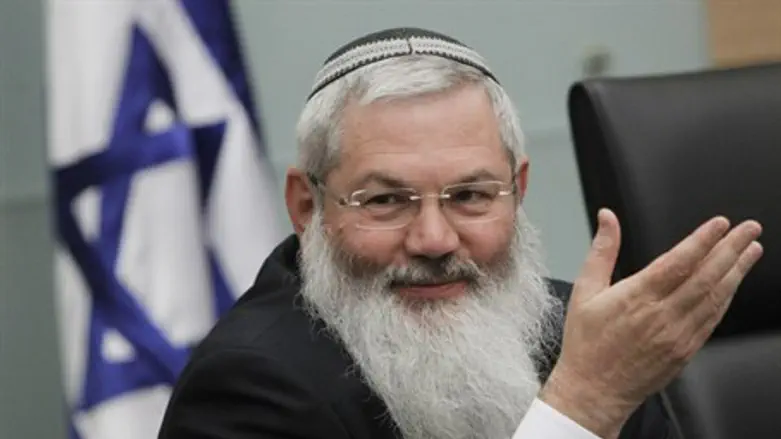 Rabbi Eli Ben-Dahan
Flash 90
The Ministerial Committee on Legislation approved a bill initiated by the Deputy Minister of Religious Services, Rabbi Eli Ben-Dahan, in conjunction Chief Rabbi of Israel, Rabbi David Lau, which would allow for municipal Rabbis to undergo disciplinary action for not performing their jobs. 
The proposal, which has yet to be signed by Minister of Religious Services Naftali Bennett, will refer rabbis found to be lax in their obligations to an inquiry committee that will then decide whether they are able to maintain their jobs. The move has already been met with approval by the Organization for Rabbis in Israel. 
The need for the bill stems from difficulties the Religious Services Ministry and the Chief Rabbinate faces in handling cases of Rabbinic incompetence or laxity. 
According to current laws, the status of municipal rabbi combines the duties of an elected official and public servant. However, unlike regular public representatives, who can be replaced through the elections process, municipal rabbis to hold office until retirement. 
The bill, if passed, will give both the Ministry and the Chief Rabbinate administrative power to deal with incompetence in municipal rabbinates, as well as provide clear administrative guides in the event that such a situation arises.
Exceptional cases would allow the government bodies to relieve a municipal rabbi from his post permanently, similar to the procedures for incompetent public officials.
The inquiry board - consisting of a number of bodies including a legal advisory, the Religious Affairs Minister, the President of the Rabbinical Council for the Chief Rabbinate, and a committee headed by a Rabbinical Judge - would be required to give the rabbi benefit of the doubt first, however, and consider possible alternatives to a drastic move.